Wicker bears
Willow "bear den" for kindergarten kids
During the week of 23rd to 27th April 2007 we took part in an interesting, it can be said "international" project with pupils of Liptovský Hrádok Art Primary School's art department. The event was organised by SWS – Slovak Wildlife Society, which invited artist Alex Rigg from Scotland and together with him we created an unconventional bear den. The idea was simple: in the garden of the kindergarten on Hradná Street we wanted to make a shelter for children, where they could play but also think a bit about it. In "art" class, kids from the kindergarten made their own model dens, according to which Alex created the final design in the shape of an Eskimo igloo.
We used simple materials for the construction: willow rods, provided for us by the surrounding countryside. The hardest part was collecting enough long, straight ones fulfilling Alex's instructions of being at least 2.5 metres long. We certainly would not have managed it without the help of eminent expert Milan Trnka, who devotes his time to basketry. We had to collect the rods at the right time, so that they would bend well and could be planted. That was because we wanted our den to continue growing. I must admit that it was not an entirely original idea, because Alex and his colleague in Scotland work on similar living objects made from wicker.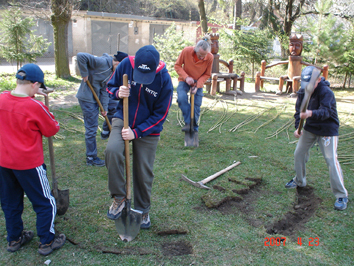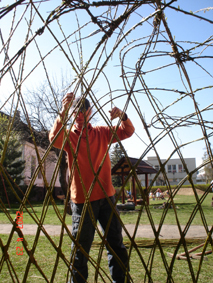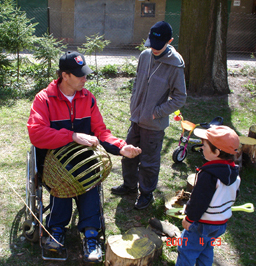 The work itself did not take long: the den was finished in 2 days. It was obvious that Alex had the approach planned out exactly and we just assisted. Pupils Martin, Gabko, Peto, Tomáš and Evka were not easily outdone: they tirelessly dug a 30-centimetre deep trench around the perimeter where the willow was to be planted. Alex also remarked that there are not many such hard working "teenagers" in the UK. Then we laid the foundations of the construction using the longest rods and they could be interwoven and tied. It was not so easy: we learned that not every kind of willow bends well and some break when tied. So we rather left that work to the experts, Alex and Milan, who exchanged their own experiences. Alex will surely teach his colleagues in Scotland how to plat a proper whip, like the one Milan gave him as a present along with a basket. And Milan could not believe that in Scotland they use willow to make 9-metre tall statues which are burned at traditional celebrations. Meanwhile, we used the time to paint the statues, benches and merry-go-rounds in the kindergarten. Other pupils from the Art Primary School helped embellish the nursery school garden in the days following.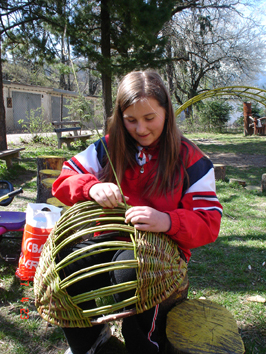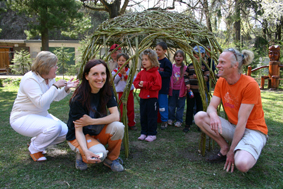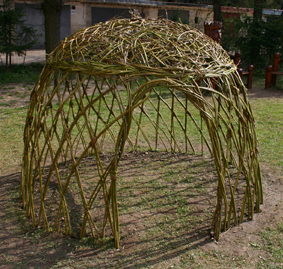 What made me happy was that even without financial support for the project we made, thanks to willingness and cooperation, a nice piece of art, which I hope will long embellish the nursery school garden and delight passers by. Thank you to Alex Rigg, Milan Trnka, Mrs. Eva Ďurčová and my pupils who took part in the project.
Svetlana Beťková
Hogmanay bear
The 2006 Edinburgh Hogmanay (New Year) celebrations included an 8-metre tall bear! Scotland's capital is twinned with Munich, Bavaria, the region where the first appearance of a European brown bear in the wild in Germany for 170 years sparked headlines in the early summer. Edinburgh's Hogmanay bear was made by artists Alex Rigg and Trevor Leat using Scottish willow woven around a steel frame and stuffed with barley straw. It arrived in the city on two lorries and was burned as part of the celebrations.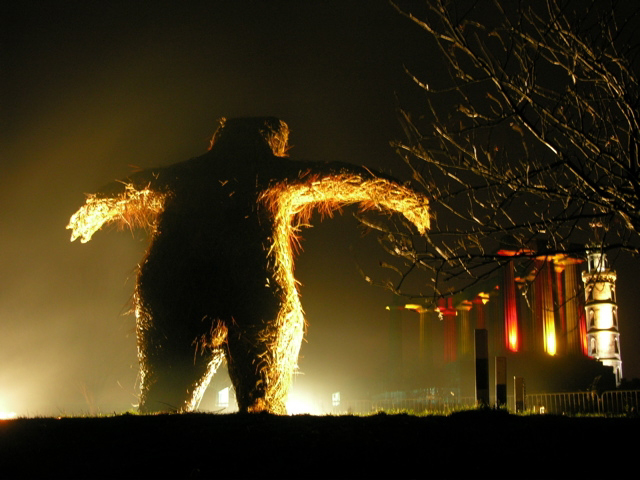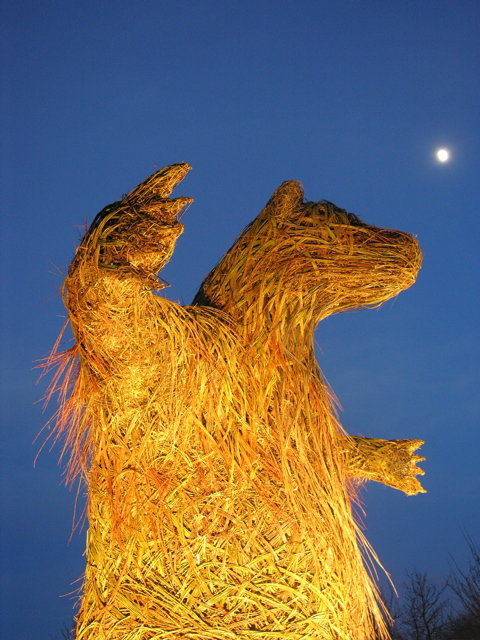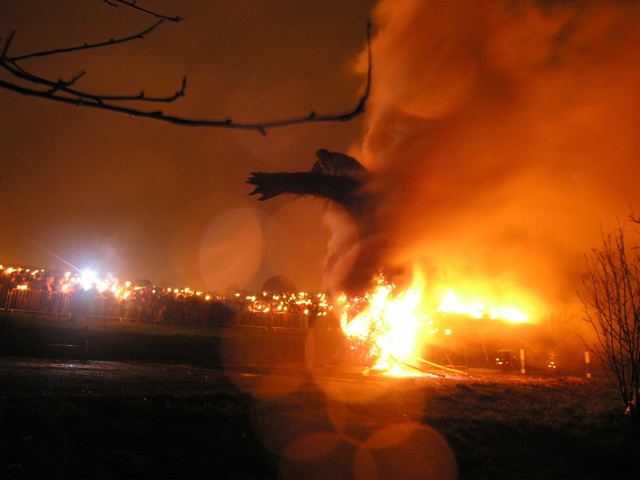 Photographs: A. Rigg
For more work by Alex and Trevor see:
Trevor Leat and Alex Rigg sculpture
Transfigured performance and design


In case of interest please contact betkova@slovakwildlife.org