Research results
Telemetry
The first results of research on brown bears in Slovakia using radio-telemetry were obtained by Polish researchers. In order to measure the size of area used by individual bears (home range),
to study their ecology and to better understand bear-human conflicts, researchers based at the Polish Tatras National Park and the Institute of Nature Conservation of the Polish Academy of Sciences trapped several bears in the Tatras and Bieszczady Mountains of southern Poland. After being anaesthetised, the bears were fitted with radio-collars before being re-released so their movements could be followed.
It was found that some of the bears crossed the border into Slovakia. During the years 2000-03 a female in the Tatras used an area of 136 km2, partially in Poland and partially in Slovakia. In just one year, 2004, a male caught in the same mountain range used an area of 170 km2, approximately half of which was in Slovakia. The home range of a very large male bear trapped in Bieszczady National Park was even bigger: in less than a year he roamed over an area of 266 km2. More ...
Non-invasive genetic sampling
In 2005-06 the Slovak Wildlife Society participated in what we believe is the first study of bears in Slovakia to be completed using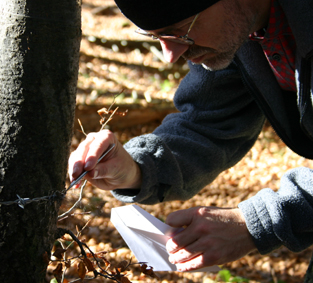 so-called "non-invasive" methods to obtain samples for genetic analysis. Non-invasive methods, typically the collection of hair and faeces, have several advantages over other methods (e.g. taking samples from shot animals), including the ability to collect samples without disturbing the animals and the possibility of including a greater number and variety of individuals. The study, authored by Milan Paunovic of the Belgrade Natural History Museum and Duško Cirovic of the University of Belgrade, came about because Slovak authorities had offered to supply 4 brown bear individuals to help augment the small bear population in Serbia. The Serbian scientists were given the task of performing a feasibility study, the aims of which included determining whether bears from Slovakia would be suitable for this purpose. The Slovak Wildlife Society supplied samples of bear hair and faeces collected from localities in Tatry National Park and Nízke Tatry National Park during activities forming part of The BEARS Project. More ...
Public opinion and knowledge about carnivores
To help better understand the level of local knowledge and opinions about large carnivores in Slovakia, we commissioned a graduate of the Institute for Wildlife Biology and Game Management in Vienna to help us design and assess a questionnaire survey. We compared the responses of over 1,100 town and village residents, school children, hunters, foresters, shepherds and tourists in two districts, one with lots of carnivores and the other with very few. Secondary school students distributed the questionnaires for us. Some of them did this job with real enthusiasm even though they had to face various attitudes from the respondents. It was a great experience for the students as together we learned about the relations of people to these animals. After they returned their completed questionnaires, respondents were given a leaflet that we prepared containing basic information about bears, wolves and lynx in Slovakia. The survey was carried out from May 2003 to February 2004, funded by the Slovak Wildlife Society's eco-tourism programme together with the British Trust for Conservation Volunteers. More ...
Diet of bears in Slovakia
In order to evaluate the diet of bears living in the Tatra and Fatra Mountains a total of 373 scats (faeces) were collected from March to November 2001-03.
In the laboratory, each scat was washed through a sieve and its contents examined and identified. Plant material constituted 90.8% of the total volume of all the scats and was estimated to have comprised 83.5% of what the bears ate. Bear diet varied greatly among seasons. Green vegetation, mainly grasses/sedges and herbs, dominated in spring and early summer, with a shift to fruits (bilberries, raspberries, cowberries, rowan berries) in July-October. Particularly in early spring and late summer to autumn, many bears utilised human-derived food sources, including places where hunters left food for deer or wild boar, crops (maize, oats, wheat), refuse and, to a lesser extent, orchards (apples, plums), but no remains of livestock were found in any of the scats examined. Insects, especially wasps and ants, occurred significantly more frequently and in greater quantities than large mammals such as deer and wild boar. More ...
Losses of sheep caused by large carnivores
The extent and patterns of predation on sheep by large carnivores in 2001-03 were studied on the national, regional and local levels. In August and September we visited 18 of 19 administrative regions with permanent occurrence of bears and wolves and a further two with permanent occurrence of wolves but not bears to determine conditions at sheep farms, losses and antipredator preventive measures.
Our results are in accord with several general characteristics of carnivore-livestock conflicts elsewhere in Europe. For example, reported losses were highest in the case of wolves and lowest in the case of lynx.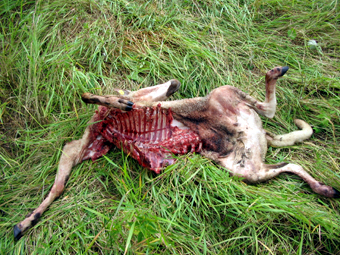 Overall damage was less than 1% of the available livestock. According to our results, losses of sheep caused by bears are relatively low and less than in several other areas of Europe where there are fewer bears. This is probably at least partly due to the constant presence of shepherds and some use of preventive measures, as well as the relative abundance of other food sources. In general, high losses were associated with poor husbandry and/or insufficient preventive measures. More ...
Photograph: P. Kostur