Competition archive 2007
PRIZE-WINNERS IN THE 2007 COMPETITION
"Investigating meetings of Bear – Man – Wolf"
Dear competition participants,

Thank you for your wonderful contributions. This year 44 schools took part from 28 districts of Slovakia with a total of 373 entries plus a further 42 entries from 4 other countries! (Hungary, India, Serbia and Ukraine). Choosing the best work was very difficult. As in 2006, we found a large number of interesting entries and so we decided to reward as many as possible. It seemed fair to us to assess work in English and from special schools separately. As usual when judging we took into account quality, originality but mainly the way the competition theme was answered. We laid a particular emphasis on the comparison of fact and experience with fairy tales and stories. Winners have been sent interesting books or DVDs about nature in addition to which we are offering all competition entrants a 10% discount on the price of our 2007 summer camp! Thank you to D & D video studio for donating copies of their film as prizes.
Best wishes,
Mgr. Svetlana Beťková
Education and public relations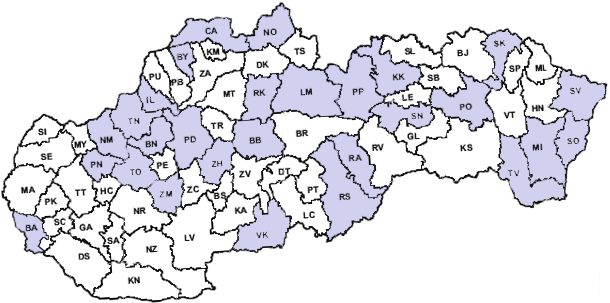 Districts from which we received entries are shown in lilac
2007 competition rules for "Investigating meetings of Bear – Man – Wolf"


The 4th annual BEARS Project competition is organised by SWS with the support of WSPA, the World Society for the Protection of Animals