Project diary 2008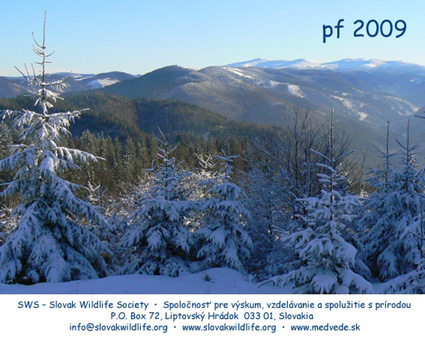 December
Simon Finnegan, Gary Volakh and I spent a couple of days before Christmas in the pathology labs at Košice University of Veterinary Medicine analyzing bear and wolf scats. Simon is writing his thesis on Baylisascaris transfuga, an intestinal nematode found in bears world-wide. He has found a strong seasonal trend in the occurrence of Baylisascaris in bears in Slovakia: whereas very few spring scats contained parasite eggs, the infection rate increased through the summer and reached a maximum in late autumn. Part of Simon's ongoing work, supervised by Prof. Mária Goldová, will be to try to find out why.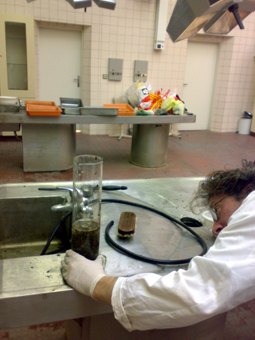 Photographs: Simon Finnegan
November
To include new volunteers in the project we held a training event on the weekend of 29th/30th November. "Among the Bears and Wolves" included practical instruction in recognising tracks and collecting samples as well as presentations and discussions on carnivore ecology, conflict resolution and awareness-raising. We had plenty of snow for tracking and although there were no recent signs of bears or wolves on the routes we covered we did find lynx tracks. Thank you to Michal Mazúr, Evžen Minarík, Tomáš Jakuba and his wife Hela, Vlado Trulík and Majka Schenková for their enthusiastic participation, to Richard Morley for his help with organization (as well as making the packed lunches!) and also to WWF for sponsoring the event.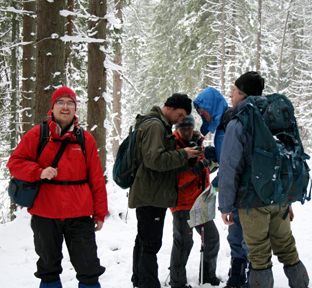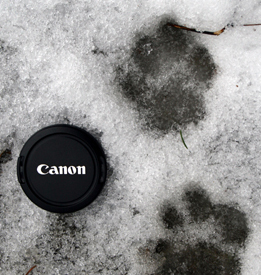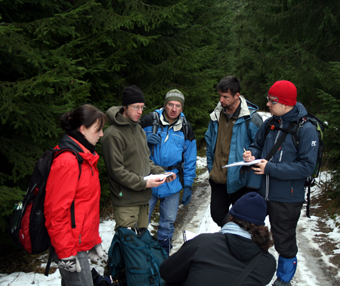 October
During October and early November we were occupied with the installation of electric fencing. We were contacted by a sheep farmer, Mr. Španko, and a beekeeper, Mr. Zábojník, both from our local area, who had had problems with bears. Both of them already had electric fences installed, but we noticed that they did not meet recommendations for anti-predator fencing. Farmers often buy fencing designed to contain livestock, which is not sufficient protection from bears. First, we researched material from various European countries with more experience of using electric fencing and drafted a set of parameters to be fulfilled. After ordering the required components, work proceeded quite rapidly. The sheep farmer and beekeeper prepared wooden posts of the required height and together we installed the electric fences: a mobile fence to act as a sheepfold in Jamník and a permanent fence around beehives at Liptovská Maša. If the fencing is successful during a trial period, livestock owners will be given the chance to buy the equipment from us for 50% of the purchase price. Mr. Španko and Mr. Zábojník have been great partners, which we really appreciate. We hope that the fences will fulfil their function and will become useful examples for others in similar need.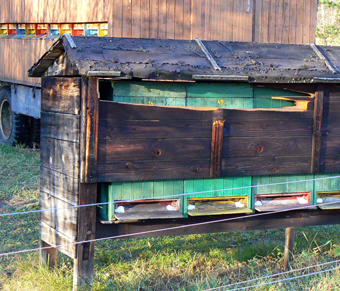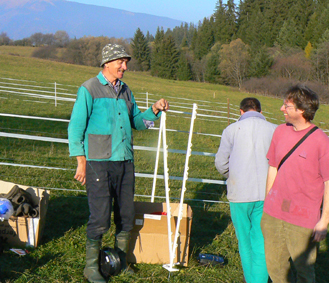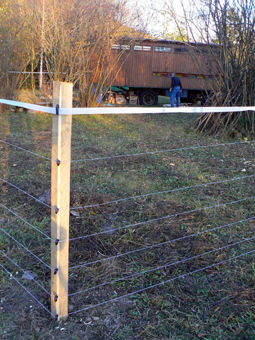 Photographs: Robin Rigg, Evžen Minarík
Thanks you to Stanislava Gourhant for help translating expert texts from French into Slovak. Thanks also go to the staff of Agrokontakt-Vetis, who not only gave us a discount but were also happy to advise on which particular components to order. Financial support to buy the fences was provided by the Wolves and Humans Foundation.
September
The month ended on a high note for me (Robin): on 30th September I saw 6 different bears in as many hours. The first was a big male, probably about 300 kg, that I had already seen the evening before. Despite his huge size, he seemed very peaceable, preferring to move away quietly when he suspected that someone was nearby. Next, 1.5 km away, I saw another adult, with rippling fat reserves clearly visible even at a distance. I watched this bear eating for more than an hour before falling rocks alerted me to the presence of a female with 2 cubs, 500 metres further up the same valley. The cubs were quite independent, several times lagging behind their mother as they all fed on berries, like the other bears. The family was at an altitude of about 1700m and had to negotiate steep slopes and snow fields, but the cubs managed fine, with only a little sliding and sinking in. Finally, as I scanned the surrounding slopes with my binoculars, I saw another adult, even higher, also eating berries. When I left in the mid-afternoon, all these bears were still active and eating, free of human influence in their natural environment. I felt privileged to see them, and went home elated.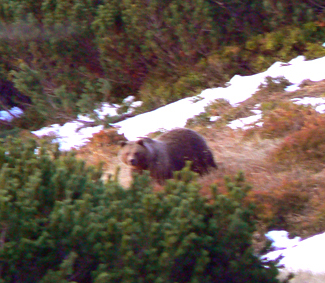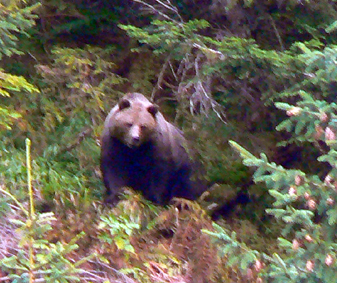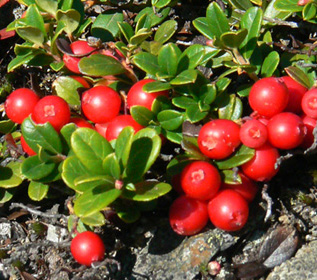 Despite tempting sunny weather on 28.9.2008, we foresook a day in the mountains to attend "Saint Hubert's Sunday" at Pribylina's Museum of the Liptov Village. In 2007 we presented a bear-proof bin at this event; this year we took along several cans of bear spray. Many people had already heard of spray from the extensive media coverage we have received but, as last year, many of the hunters we met were sceptical, prefering instead to rely on their guns. Scientific research has clearly shown that bear spray is the best method for fending off threatening or attacking bears and for preventing injury. It will probably take time to change traditionally held views and overcome conservative attitudes to "new" methods.
At the invitation of our long-term partners, the Wolves and Humans Foundation, Robin returned to Scotland for a week to attend a conference examining the possibility of reintroducing animals such as the beaver, lynx, wild boar and wolf, once common in Britain but long since hunted to extinction. The conference was hosted by conservation charity Trees for Life and the Wildland Network, both of whom work to restore ecosystems to more natural conditions. The long trip north presented an opportunity to camp amongst remnants of the ancient Caledonian pine forest at Mar Lodge Estate in the Cairngorms National Park. The serenity of this wild and beautiful area contrasted with the bustling tourism of the Lake District National Park. We also visited the Wildwood project in Carrifran, which aims to re-create an extensive tract of mainly forested wilderness with a rich diversity of native species of plants and animals. In Slovakia, habitats are better preserved and there is a richer fauna, but the situation in Scotland shows the extent to which unregulated development and exploitation can harm nature.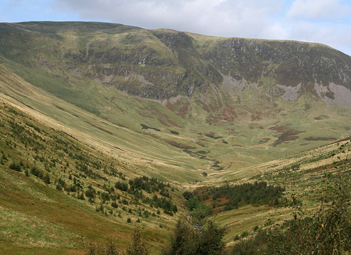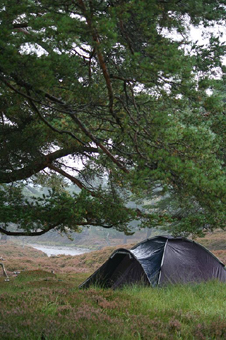 Photographs: Richard Morley
We noticed some interesting animal behaviour this month in relation to weather and each other. Few red deer were visible on 5th and 6th September in areas where we normally see many: perhaps they were sheltering from strong winds. But cameramen Rasťo and Roman reported seeing several bears in the same general area eating berries on higher ridges, even when the season's first snow began to fall on 15th. Roman filmed a smaller bear briefly chase a larger one when they inadvertently got very close to each other while feeding. Such observations cast doubt on the belief, long-held in Slovakia, that large males exclude other bears from their territories. More detailed scientific research could help us better understand the complexities of bear life. You can help us buy the equipment we need: please donate today!
In late summer and autumn, bears often feed on wasps: they excavate nests and eat even the adults. As volunteer Tom Heenan discovered, this year was no exception. Tom found several nests dug up in the hills around Liptovský Hrádok. Results from our long-term study on the diet of bears in the Tatra Mountains show that this type of feeding most often occurs in August-October. The study has been running since 2001. More ...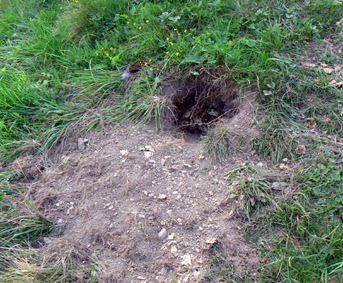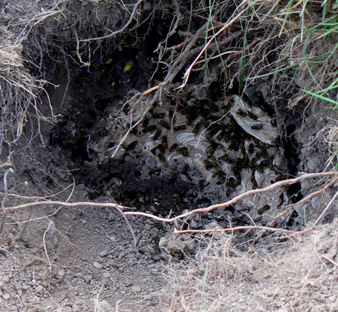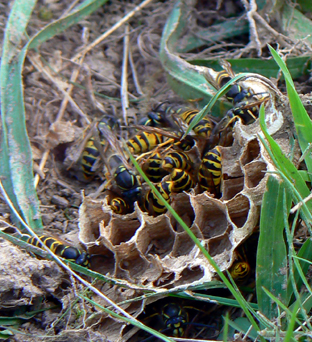 Photographs: Tom Heenan
August
We were delighted to have the opportunity to reach a wide audience as partners of the "Bear Days" event held at Hrebienok in the High Tatras on the last weekend of the summer break. Our awareness-raising activities included showings of the film, "Staying Safe in Bear Country" and installation of our travelling exhibition, "Meeting the Bear", as well as some fun activities. Children particularly enjoyed painting bear tracks on T-shirts, identifying different bear foods and exploring an imitation bear den. Special thanks go to volunteers Eva, Marina, Tom and Urs for helping to prepare such a rich programme. Nearly 10,000 people passed through the site over the course of the 2 days. Such a mass action was a new experience for us and while the interest of some tourists was quite fleeting, we hope we succeeded to get across the main message, that it is not good to feed bears, as well as the need to adequately secure food and refuse. In this we were helped by the recent installation of our first bear-proof bin in the High Tatras.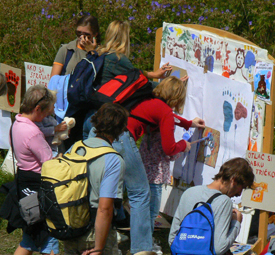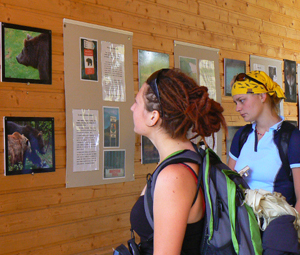 August was a busy time for us. At the start of the month we welcomed four new volunteers: Tom from the UK, Eva and Marina from Germany and Petra from Nitra, Slovakia. They successfully completed our new WWF-backed training course in tracking, sample collection and laboratory techniques. Besides feeding extensively on raspberries and bilberries as well as foraging in fields and on discarded apples, we found that some bears were also eating bark beetles, which are present in huge numbers in the Tatras as a consequence of storm damage to spruce forests in November 2004.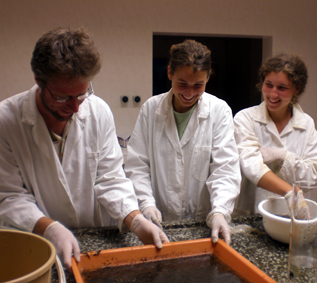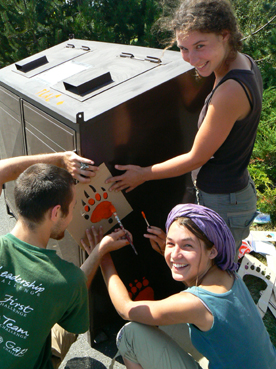 Photographs: Tom Heenan, Robin Rigg
Throughout the month, ecotourists from across Europe, including a group of Austrian mountain guides led by Veronika Grünschachner-Berger, came to us for guided bear tracking. We were able to give them some really special experiences. Milan's group from Switzerland had a close encounter with a wild boar family while Hanneke and Alex from Holland watched a mother bear feed on berries for more than an hour while her two cubs played: wrestling, chasing and sliding on a sub-alpine meadow.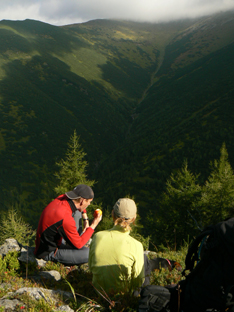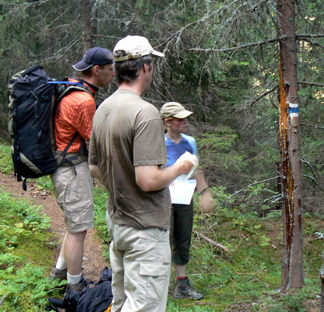 July
Following their visit to Liptov in February, The European Nature Trust and Wildlife Conservation Research Unit valued our work sufficiently to finance a 3-week stay at Oxford University. Under the guidance of renown reseachers we analyzed the results of our work, which we will now be able to publish in scientific journals. We also had the chance to meet colleagues working on measures to prevent conflicts involving, for example, lions in Africa and tigers in China. It was fascinating to exchange experience with people who come from, for us, exotic countries. Harunnah Bernard Lyimo told us how in Tanzania people are in danger from lions mainly when they sleep in fields during harvest time, but they have no possibility to instal electric fencing. The lions are attracted by wild pigs, which feed on the ripening crops. Several people are killed and eaten by lions each year. Likeable Li Bing from China, who works on the Amur tiger population expanding from Russia, concluded that unfortunately the high level of illiteracy in her country obstructs education efforts. In the face of such problems we were again made aware that, unlike in some other countries, the situation in Slovakia can be solved.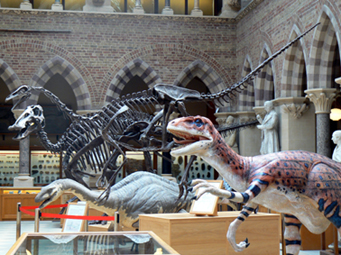 June
For the third successive year we guided a group of Scottish foresters with an interest in large carnivores. We managed to show them signs of both bear and wolf in very close proximity: the former had been feeding on grass, the latter on red deer and wild boar. In the same week we were also visited by Jean-Paul Mercier from France, who is preparing a book about European brown bears. Jean-Paul and his interpreter, Douglas Ryan, kindly helped to instal fladry (see May, below) at a sheep farm in Liptov where the owner, Mr. Španko, has had problems with wolves and bears. We also spent a few days together in Ukraine to research the current situation in Slovakia's eastern neighbour. According to Yaroslav Dovhanych, a mammal specialist at the Carpathian Biosphere Reserve, there are around 300-400 brown bears in the Ukrainian Carpathians, where the species is protected by law. Numbers seem to have stabilised after previous decline, but poaching and habitat loss remain serious problems.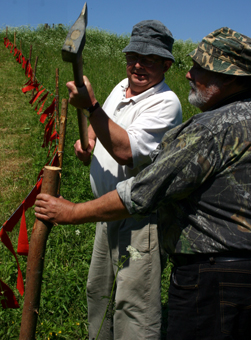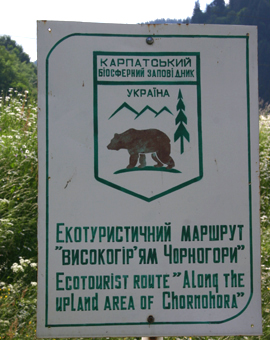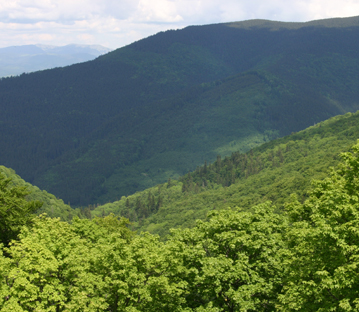 May
Robin was invited to present our work at the EU-funded conference, "Of bears, wolves and men: European initiatives for coexistence and development". The venue was Luchon in the French Pyrenees, where bears have become a hot political issue. Although 60% of local people are happy to have bears, some sheep farmers have been fiercely opposed, sometimes even staging violent protests. There are thought to be only around 20 bears in the Pyrenees, but each year they kill as many sheep as all 800 bears in Slovakia. The French government and the EU have spent millions of euros to subsidise shepherds and pay for damage prevention measures. Electric fences and livestock guarding dogs have proven to be highly effective in the Pyrenees and the Alps, where there are wolves as well as a few bears. Will this improve coexistence? Time will tell.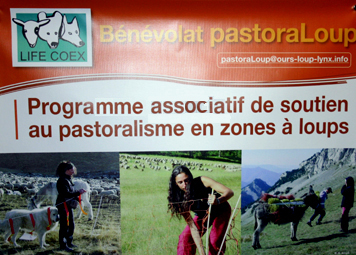 Sheep are now out on summer pastures, where there could be problems with predators. Thanks to Mrs. Zuskinová, we were able to use the occasion of the annual "Shepherding Sunday" event at Pribylina's Museum of the Liptov Village to demonstrate methods for protecting sheep from bears and wolves. David Lintott, one of the original founding members of the Slovak Wildlife Society at its launch 10 years ago, helped us set up electric fencing and "fladry": a simple but effective form of protection against wolves used is Poland. It consists of a fence made of coloured cloth hung on a line around the sheepfold. Apart from being cheap, it can be installed quickly and moved as required. Schools across Slovakia taking part in our competition sent us plenty of red flags, which were assembled into fladry lines by local woman S. Beťková snr. Although our designated plot was rather hidden and some comical attempts to catch sheep to put in the enclosure ended with an escape, the display attracted quite a lot of positive interest from farmers as well as the public.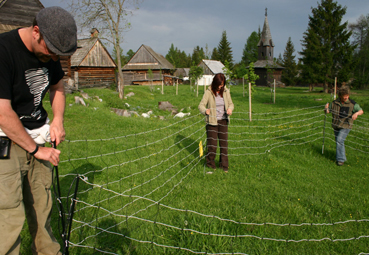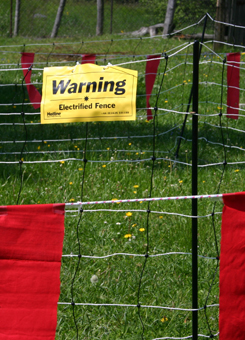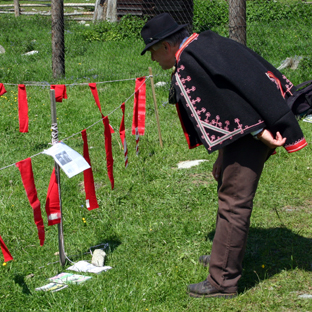 April
As part of the "Forest Days" programme under the auspices of the Ninister of Agriculture you could visit our exhibition of bear photographs at State enterprise Forests of the Slovak Republic, Forestry and Timber Museum Zvolen, from 3th to 30th April. More ...
We welcomed another famous person to our area: Prof. L. David Mech, field biologist and the world's most renown expert on wolves, who was celebrating 50 years of research with the publication of one of his books in Czech. As part of the occasion, Hnutí DUHA Olomouc organized a seminar on Perspectives of wolves in Central Europe, at which Dave gave an overview of some of the most important results and most interesting experiences from his long years of work in Minnesota, Yellowstone and the Arctic. We explained the current status of the wolf in Slovakia along with S. Finďo of the National Forestry Centre. On the way to Prešov, where Dave gave another lecture, we showed him part of our study area, where a few days earlier a cameraman with whom we cooperate had managed to film a wolf. It was nice to see that, even though Dave has spent years in pristine wilderness areas, he still appreciated the beauty of the Slovak countryside.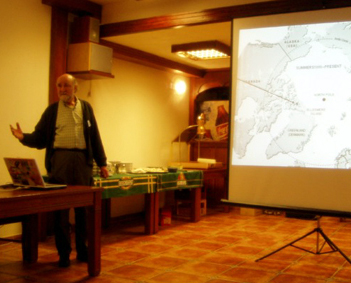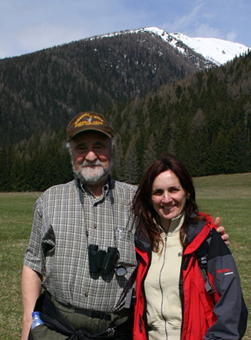 Photographs: Hnutí DUHA, SWS
At lower elevations, spring is in full flow: flowers are flowering and birds are singing. We have been following the activity of bears in the foothills, where they are feeding on, for example, fresh vegetation and ants. During fieldwork we found that bears at higher elevations, where there was still a lot of snow, had apparently not yet left their dens. On 6th April we were a little surprised to see four storks flying over a snow-bound valley in the Tatra Mountains. It is natural for some bears to descend to lower areas where they can find food in spring while winter still reigns higher up in the mountains.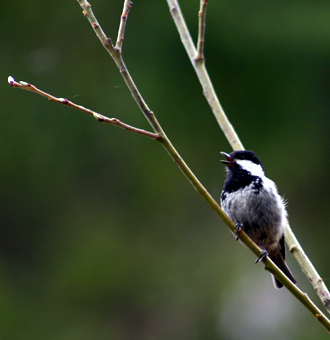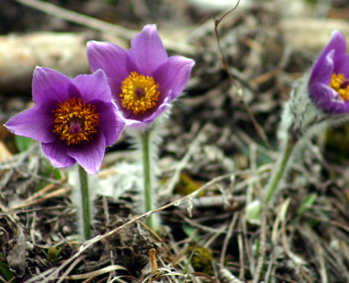 News spread at the end of March that a female bear with 3 cubs had again started going to Zamkovského Cottage in the High Tatras. These visits had already become a tradition last year, when we offered help to the owner, Ms. Kalinčíková, in the form of funds to buy an electric fence. Unfortunately this was not installed at the time of the bears' latest visit, because the cottage staff had not realised they could use it even while there was still snow, they did not expect the bears to come "so early" and their electricity supply was off. So we went to assess the situation. When we came to the cottage on 2nd April we were glad to find that they had managed to instal the electric fence and so the kitchen and food store were protected. The bears had not appeared since. On the same day we also met with representatives of the Tatras State Forestry Service and offered them cooperation in the application of preventive measures. More ...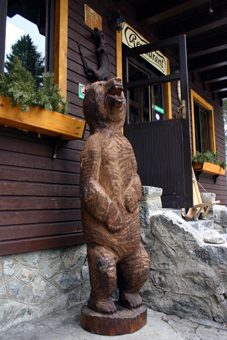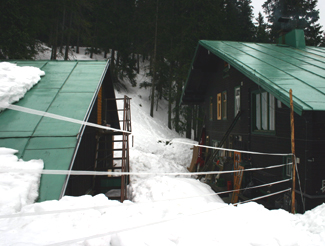 March
Just before Easter we hosted a group of UK students of forestry, conservation and environmental education. Fresh falls of snow provided us with perfect conditions for tracking and we were able to follow a fairly large adult bear as it went to pick over the bones of a carcass that it had buried in an attempt to save it from foxes and other scavengers.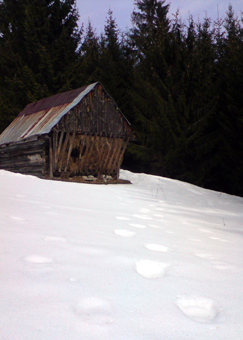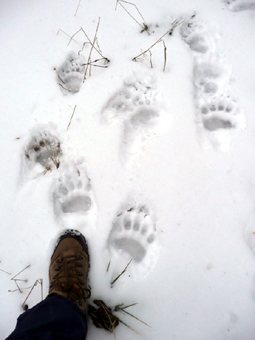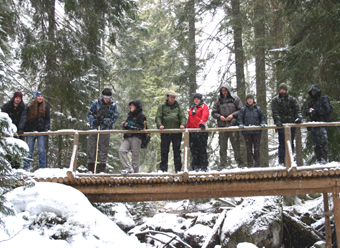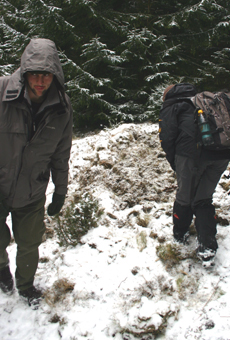 Photographs: L. Steinmeyer, P. Maceček, R. Rigg
Early in the month we were joined by Lisa, a student of wildlife management from Germany, who will be spending the next two months with us to gain practical experience. During her first few days of fieldwork in Nízke Tatry NP we were lucky to find tracks of bears and wolves. For Lisa, who had until then never seen a bear in the wild, the most rewarding were tracks of a female bear with young. Nearby was a freshly broken open tree stump and proof that the family had fed there was a scat (faeces) from a cub containing insect larvae. The bear family continued for several hundred metres along the same track as us before their tracks disappeared. While going down into the valley we found a bigger set of tracks of a different bear that had walked by a deer feeder filled with hay.
February
We were privileged to have the pleasure of hosting a group of outstanding conservation professionals: Prof. David Macdonald, Director of the Wildlife Conservation Research Unit at Oxford University and Chairman of the IUCN/SSC Canid Specialist Group; Paul Lister, owner and leading visionaire of the Alladale Highland Wilderness Reserve; and Toby Aykroyd of the Wilderness Foundation, European Nature Trust and Wild Europe. The group, also including Richard Morley of the Wolves and Humans Foundation, accompanied us tracking bears and wolves in Západné Tatry and watching an otter in the River Váh, inspected one of our bear-proof bins in Nízke Tatry NP and gave us some valuable advice on developing our work.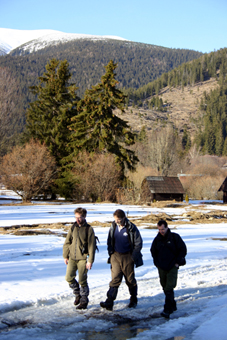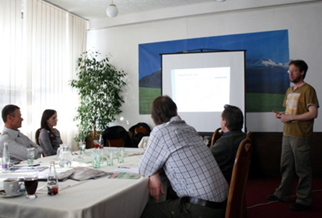 Photographs: R. Morley, S. Beťková
As part of a European Commission (EC) project to increase public awareness of large carnivores, a seminar was held in Bratislava on 11th February on "Large carnivores – proposed EC guidelines and current questions in the Czech Republic and Slovakia". We were the only Slovak non-governmental organisation invited. More ...
Some bears did not hibernate for long. Alpine skier Marek reported seeing tracks on 2nd February in Západné Tatry. Bears were active elsewhere, too. On the same day, cameraman Rasťo Dobrovodský filmed a large adult in Poľana. The bear was trying to hide a carcass from scavengers, chasing away ravens and a fox and marking surrounding trees. More ...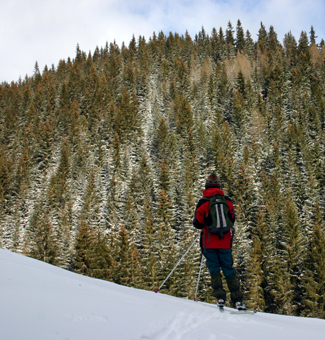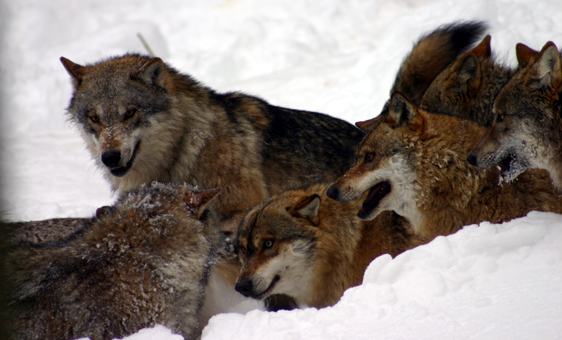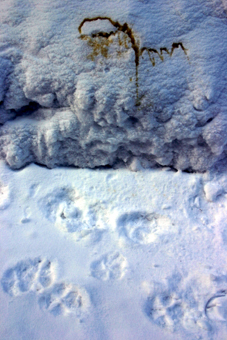 Colder temperatures and more snow seemed to persuade bears in our area of northern Slovakia to stay in their dens, at least for a little while. Whereas some individuals were still active in mid-January, as in 2007, we found no signs of bears at the end of the month. We focussed efforts on our project to improve estimates of the numbers of wolves in Slovakia, funded by the Wolves and Humans Foundation. We tracked a small pack of 3 wolves around Podbanské in Západné Tatry as well as 2 wolves in Nízke Tatry. In both cases they were in lower-lying foothills, where their main prey, red deer, concentrate during winter.
January
Like last year, this winter has been unseasonally warm, which has led to more bears being active. Although the brown bear is adapted to hibernate in winter, often some individuals stay out of their dens. Climate change might result in this becoming a more common phenomenon in the future. This could cause problems not only for bears, for example more cubs being abandoned, but also for people, if bears are more bold in seeking food near human settlement and there is an increased risk of encounters. More ...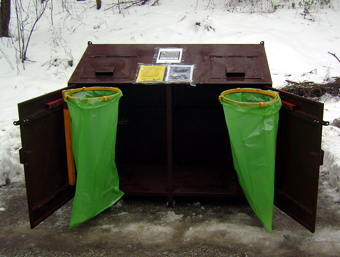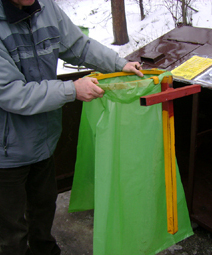 Photographs: V. Sobol
This month we have been completing the first phase of our project to secure refuse and buildings from bears. In cooperation with the Slovak Road Administration, Banská Bystrica, we successfully installed a prototype container at the roadside rest stop near Staré Hory. The roadmen duly modified it so that it would be easier to fix into the asphalt and large plastic sacks could be used inside instead of bins. Thank you to Mr. Sobol and his colleagues. The next containers which we also want to use by roads or paths will be made with these modifications.
We completed the fencing off of areas with bins next to Tatranec hotel and camp ground in Tatranská Lomnica in cooperation with director Dr. Kožuchom. It was here that in spring 2007 a young bear, which was later caught and will spend the rest of its life in captivity, had been a regular visitor. At the end of last year we also financed an electric fence, which should be reinstalled after the winter, at Zamkovského Cottage, where a she-bear with three cubs had become a nuisance. It is our aim to make the securing of refuse in areas where bears go a matter of course.