Project diary 2011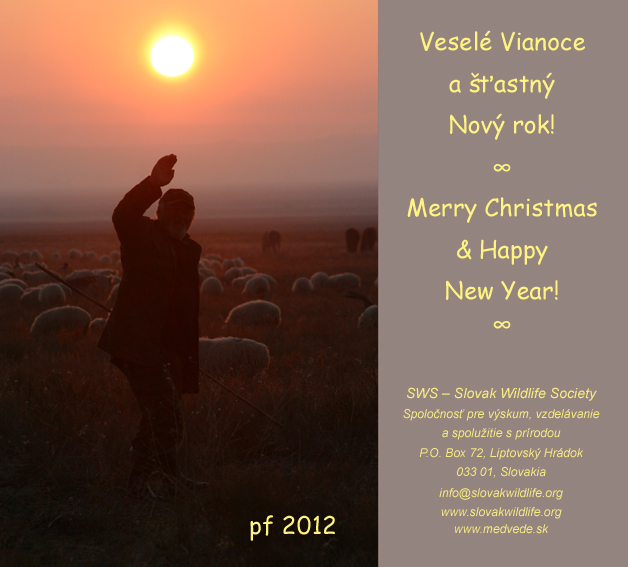 December
In many areas it is still relatively warm and there is only a thin snow cover on the ground. We are still receiving reports of bears active, for example near Turčianská Valley in Malá Fatra on 10 and 25 December.
I was very happy to get the chance to do some more work for the Georgia Carnivore Conservation Project, this time working with project staff and nomadic sheep farmers to help improve the effectiveness of livestock guarding dogs. It was fascinating to compare experiences in Slovakia and Georgia. For the Tusheti sheep farmers, the habit of Slovak shepherds of keeping their guarding dogs on chains seemed to be an obvious mistake: how can a dog repel predators if it is chained up? While we were at a sheep farm in Vashlovani, 2–3 of the adult dogs ran several hundred metres towards an unidentified canid (a wolf or a jackal?) and disappeared from sight behind a rise, apparently driving it away from the flock for a considerable distance. We also got to see some of the herds of cattle, sheep and horses arriving together with their dogs from the Caucasus Mountains, the impressive snowy slopes of which were visible on the horizon.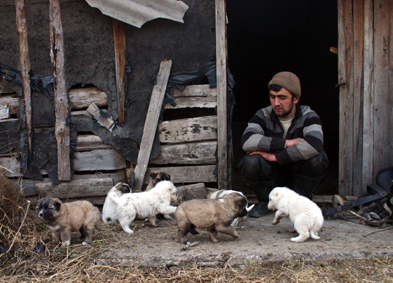 Photographs: Robin Rigg / Fauna & Flora International
As I was flying back from Tbilisi via Kiev, I decided to have a stopover for a couple of nights. As well as visiting the city for the first time (very nice), I booked on a tour to see the legacy of the Chernobyl disaster. In the early hours of 26 April 1986, a series of explosions and fires that occurred as a result of a fatally flawed systems test at Chernobyl Nuclear Power Plant's Reactor No.4 not only led to the contamination of thousands of square kilometres of Ukraine and Belarus but spread radiation across much of northern and western Europe. I was 14 at the time of the accident and watched news reports at home in England. We were affected, too: 10,000 farms in the United Kingdom had restrictions placed on them due to radiation levels and some are still under this regime 25 years later. Now that I have children of my own, it was a moving experience to walk around deserted schools and see what Soviet children were being taught at the time, their books left behind in hastily abandoned classrooms.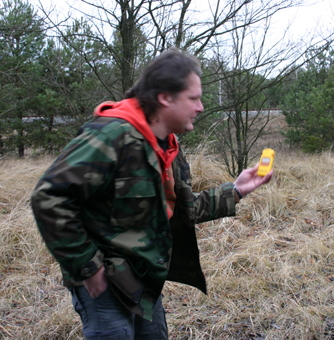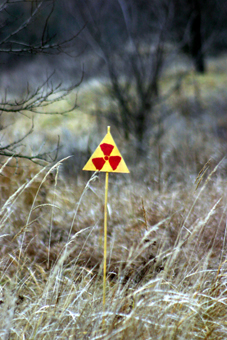 We had lunch in the Plant's workers' canteen and at one point during the tour stood in a car park 200m from the sarcophagus - now in urgent need of replacement - which covers the stricken reactor, but it was in the so-called
Red Forest
, directly downwind of the reactor, that our guide's Geiger counter screamed its loudest warning. This remains one of the most contaminated areas in the world; we did not stay there long. What interested me most, though, was seeing nature reclaiming farms, villages and even an entire city. The buildings of Pripyat, whose 43,000 residents were evacuated in the aftermath of the disaster, never to return, are slowly disappearing into forest.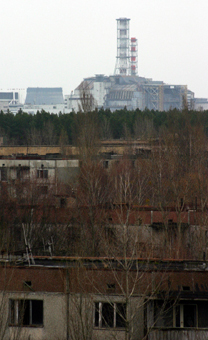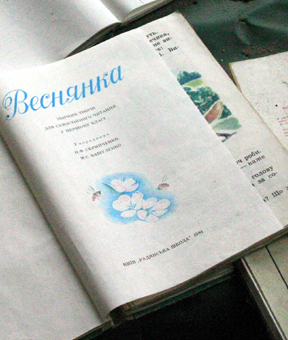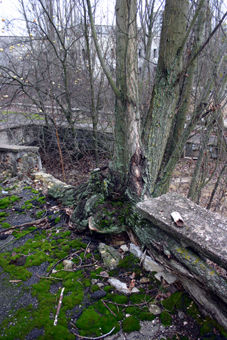 It took several months and half a million men to stabilise the reactor. The long-term effects of the accident are still unfolding. Incidences of livestock born with gross deformities were said to be much higher in the years following the accident than previously and radiation seems to have had deleterious effects on birds, insects and mammals. However, the elimination of farming, logging and hunting has benefited many animals. The 30-km Exclusion Zone, or 'dead zone', established around the reactor site has become a kind of wildlife refuge, with numbers of wolves, elk and wild boar apparently having increased substantially. Brown bears and lynx have returned to Polesia after an absence of decades if not centuries leading one scientist to comment that, "the world's worst nuclear power plant disaster is not as destructive to wildlife populations as are normal human activities." It's a sobering thought.
November
We were joined for a few pleasantly sunny autumnal days in the field by Dr. Seth Wilson, a researcher at the Yale School of Forestry and Environmental Studies and Research Associate with the Northern Rockies Conservation Cooperative. Dr. Wilson's research and applied efforts focus on large carnivore conservation, policy and human-wildlife conflict. He is currently working on a multi-year research project involving a community supported conservation plan which has succeeded in reducing human-bear conflicts in agricultural areas by more than 90%, despite increasing numbers of brown (grizzly) bears as well as wolves. Throughout his stay with us in Liptov and our travels together in central and northern Slovakia, he was surprised at the similarities with his home in Montana. He also confirmed that the approaches we have been encouraging here - including the use of electric fences, bear-proof bins and pepper spray as well as removal and proper disposal of attractants such as livestock carcasses - are among the best methods to deter bears.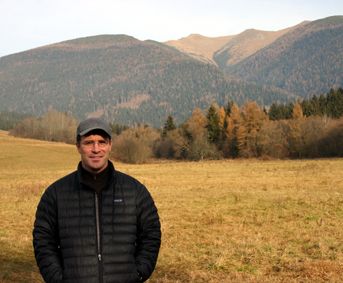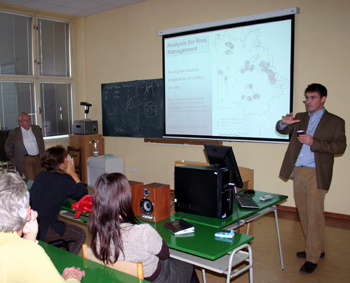 Around 170 people had the chance to see Dr. Wilson's informative talks on "Reducing Conflicts with Bears" at Horolezecká chata in Horný Smokovec (which now has one of our bear-proof bins!), at the Forestry Faculty of Zvolen Technical University and in Martin town library. We hope to include a version of his presentation on this website for those who could not attend. Thank you, Seth, for spending the time with us and we hope to see you again in Slovakia soon. Our thanks also go to prof. Paule, his colleagues and students at Zvolen Technical University as well as to Monika and staff at Horolezecká chata.
October
Under the auspices of the Ministry of the Environment and with support from Alertis we organised two more expert workshops this month. After the success of the first workshop with Dr. Alistair Bath in July, when different interest groups began to address key issues of bear management in Slovakia, participants came together again on 10-11 October in order to continue the process of searching for collective solutions to these issues. This second workshop focused on increasing our knowledge of bears and involved presentations by several members of the working group on topics including genetics, monitoring methods, legislation, current management, bears killed illegally and by vehicles, damage caused by bears and how to prevent it.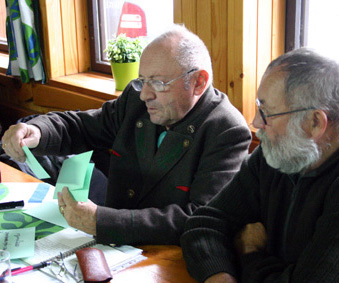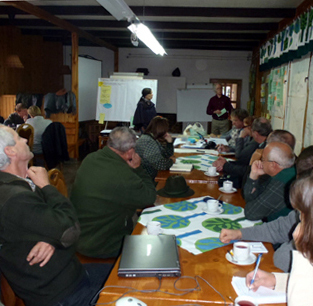 Unsurprisingly, there were differences of opinion among a diverse group of participants, who included representatives from hunters, foresters, landowners, livestock breeders, researchers, local government, state nature conservationists and environmental NGOs. Nevertheless, the format of the meeting, with an expert facilitator, allowed the group to engage in constructive discussion and everyone agreed on the need to decrease illegal killing of bears, to support international cooperation - particularly with Poland - on transboundary issues and that the use of preventive measures such as electric fences and bear-proof bins is essential to minimise conflicts. The Ministry of the Environment reiterated its strong support for the workshop process, the aim of which is to devise a bear management plan for Slovakia that all the key interest groups accept. The next workshop is expected to be held in early 2012.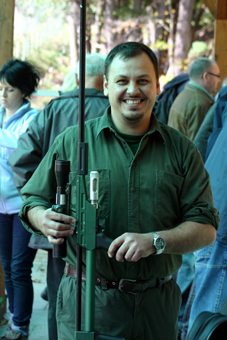 Following the workshop with prof. Bath, Dr. Djuro Huber from the Faculty of Veterinary Medicine, University of Zagreb, led a training event on
"Implementation and work of an emergency team for solving urgent conflicts between bears and humans"
. We see establishing such a team as an important step to improving bear management in Slovakia. Dr. Huber has more than 30 years' experience in research and management of large carnivores. The first day consisted of a theoretical session including presentation of the Croatian Bear Emergency Team's work, followed by discussion of the main issues to be addressed in Slovakia and drafting of a protocol for a Slovak Bear Emergency Team. Dr. Huber also explained and demonstrated some of the techniques that can be used to deter bears, including pepper spray, rubber bullets and firecrackers.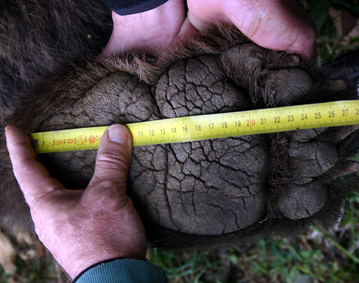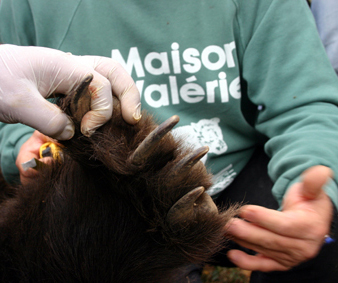 On the second day, participants moved to Košice Zoo, where Dr. Huber and Dr. Molnár from the University of Veterinary Medicine and Pharmacy (UVM) immobilised Tapo, a large male bear (estimated to weigh about 240 kg), in order to demonstrate standardised procedures for handling bears, including how to take measurements and samples. Tapo was monitored carefully throughout the procedure to ensure he came to no harm. Video footage was recorded by Agnieszka Sergiel from the University of Wroclaw, Poland, for editing into a film to be used at future training events. Around twenty people took part over the two days and the group was also joined by several students from UVM. We express our sincere thanks to zoo director Erich Kočner and his staff and to Ladislav Molnár, his colleagues and students for making this event possible.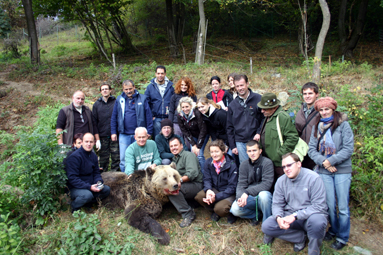 September
Peter Kubík of the Regional Envionmental Office in Ružomberok contacted us with a request for help. A family was having problems with a young bear that was regularly entering their garden from the surrounding forest, damaging fruit trees and scaring them. Thanks to the generosity of
Hotline Electric Fencing Limited
and members of
The Wolves and Humans Foundation
, we were able to provide an electric fencing system free of charge. Big thanks to Peter, Roman and Matúško for their help setting it up. If it works, this will be the fifth predator-proof electric fence we have constructed. In all cases so far we have successfully excluded bears and prevented any further damage even at sites where there had previously been repeated long-term problems.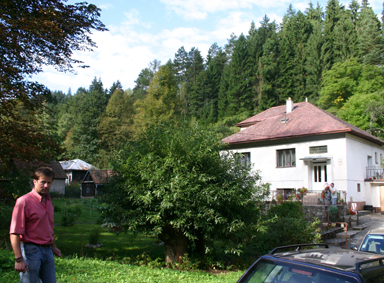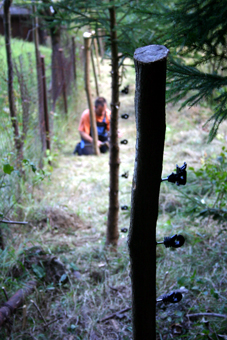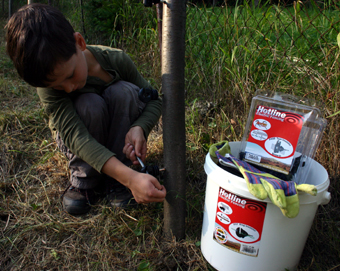 We were invited by the Ministry of the Environment to take part in a meeting in Varín on 13 September about the proposed construction of a 'green bridge' over a new section of the D1/E50 highway. It seems that, despite an Environmental Impact Assessment (EIA) having been eleborated, the decision was taken during Robert Fico's government (2006-2010) to build a major intersection in a very unfavourable location from an environmental perspective: straddling and therefore risking severing an important wildlife travel corridor. Data on road kills and genetic analysis indicate that this is one of the few places where bears and other large mammals are able to move between Malá Fatra and Veľká Fatra National Parks.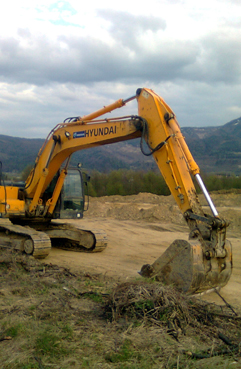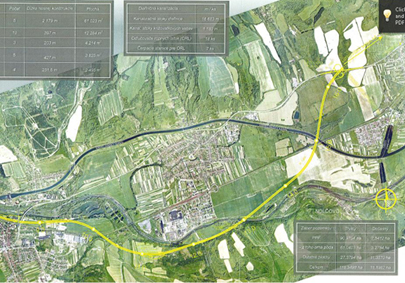 Diagrams: NDS
There were allegations that the EIA was not carried out with the inclusion of all pertinent experts and adequate information. Nevertheless, meeting attendees were told it is too late to reverse the decision and the task now is to maintain some of the linkage by designing a wildlife crossing. Because of the positioning of the intersection, the crossing will probably have to be far longer and presumably therefore more expensive as well as possibly less effective (it is better to have a shorter connection so that animals are more 'willing' to use the overpass or underpass) than would have been the case if there had been sufficient consultation and communication with wildlife experts throughout the planning process.
August
Despite the February announcement by the Environment Ministry of substantial support from the Environmental Fund for bear-proof bins, some local authorities continue to claim that they do not have sufficient funds to install them. However, expensive new containers are not necessary if existing bins can be adequately modified. Working with Gregg Losinski of the
Interagency Grizzly Bear Committee (IGBC)
, we have shipped one of the most common and problematic types of container - generously donated to the project by manufacturer
Mevako
- to Yellowstone, USA. As part of the
bear-resistance container testing program
, it will be fitted with experimental latch mechanisms designed to keep bears out while still allowing easy handling by refuse collection services and the public. This unique program, managed by the IGBC and implemented at the
Grizzly & Wolf Discovery Center
in West Yellowstone, Montana, reviews between 40 and 50 new products annually using a combination of laboratory tests and trials with live bears.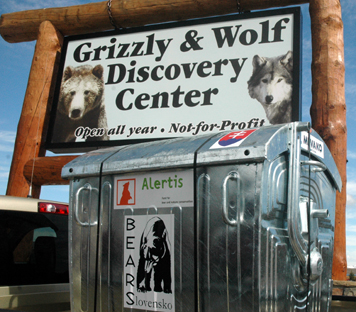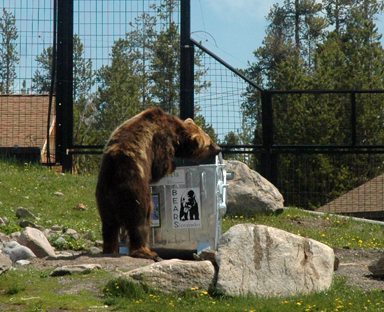 Photographs: Gregg Losinski
Once a design is identified that meets all the established criteria, including withstanding an hour of abuse by some very powerful and curious grizzlies, the next step will be mass production and fitting of the latch to bins in Slovakia. There are thousands of these containers in areas accessible to bears throughout the Carpathians, so a cost-effective design to make them bear-proof will be a major step forward in reducing bear-human conflicts in Central Europe. For his help with arrangements we also thank student Michal Haring, who gave a presentation on bears in Slovakia and SWS's activities as part of a visit to the Yellowstone education centre.
July
As the comments in our
visitors' book
show, people hold many and varied views on bears, both positive and negative. There are equally differing views on what to do: some people think that hunters must control bear numbers, others think this should be left to nature. Such long-term disputes have hindered the adoption of coherent and effective strategies to manage the coexistence of bears and people, which is bad for all of us.
We are delighted to announce the launch of an innovative new project: "Providing the Tools to Improve Brown Bear Management in Slovakia". Working with the Ministry of the Environment and other partners together with internationally recognised experts and Alertis, we will be providing training on best practice in managing bears, covering practical animal handling as well as legislative aspects. The first step is to overcome disagreements between diverse interest groups, and we set about this immediately with a facilitated workshop to improve understanding of the key issues facing brown bears and their management in Slovakia. The ultimate goal is to help all interest groups work together to prepare a national brown bear management plan that everyone can accept. More ...
June
Lots of bears seen this month, beginning on the first day with a large female loping across a half-mown meadow followed by her yearling cub. Nothing particularly remarkable about that, except that on the same meadow, the same evening, Peter & Stefan Huiskes and I also saw 3 foxes, 2 brown hares, 3 roe deer, at least 7 red deer including some nice stags, 3 wild boar, 2 lesser spotted eagles (
Aquila pomarina
) and, on the way home, a beech marten (
Martes foina
). Not only that, but the evening before at the same spot we had seen a fox and badger (
Meles meles
) foraging almost side by side as well as a pack of 2-4 wolves! Even more amazing is that we were not in a strict nature reserve or even a national park buffer zone, but on private land with no special protection.
We also arranged 3 successful days of bear watching in Malá Fatra for photographer Andrew Kelly: "Our first clue of their approach was the sound of bark being ripped from a tree followed by scratching noises as the bears searched for insects. The bears were aware of our presence and seemed very nervous and so I used 'quiet mode' to take pictures or the bears would have fled." Andrew's beautiful images of wildlife and landscapes can be seen - and bought! - on his website (follow the link beneath the photos). So far this year we have a 100% record of seeing bears with groups of visitors who have come to us to observe animals.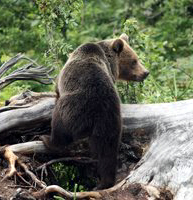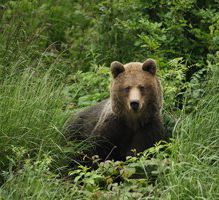 Photographs: Andrew Kelly
We completed the first of five annual surveys of Tatra chamois in Nízke Tatry National Park with the help of volunteers from Slovakia, Hungary and the British Trust for Conservation Volunteers. Visit the SWS website for details if you are interested in
signing up as a volunteer
. While observing a very large herd of around 40 chamois including 13 kids, Kate, Keith and Rosemary were lucky - and surprised! - to see a small, probably juvenile, bear run over the main ridge just 20 metres away from them and the chamois. We also found fresh evidence of an adult female with two young cubs close to the walkers' lodge below Ďumbier where we were based. It was clear from their oily blackish-green scats (faeces) that they were feeding mainly on grass, which is typical for brown bears at this time of year, but a quick investigation confirmed that they had been lured into the area by piles of kitchen scraps thrown into the bushes near the lodge. Even in the midst of wildland with plenty of natural food sources, food and refuse from people, rich in sugar, fat and protein, is highly attractive for bears and needs to be stored and disposed of carefully.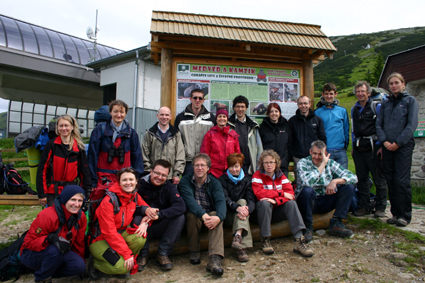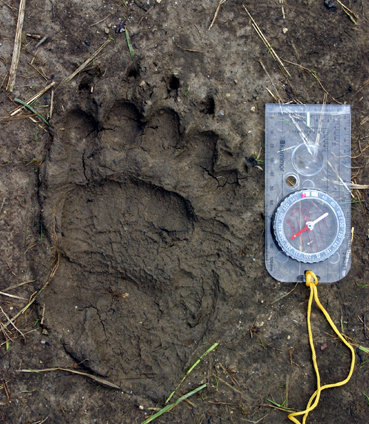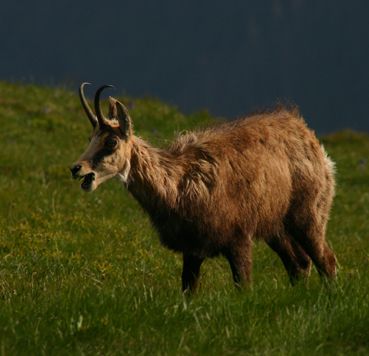 And as if that wasn't enough activity for one month, I was also invited to give a presentation to vets, hunters, police officers and community leaders on
"The bear, wolf and lynx - prevention and protection"
at the
11th Expert International Conference on Management of Local Communities - "Legal aspects related to companion animals, game and wildlife"
, held in the High Tatras on 22-24 June.
May
Renovation work is proceeding on our property in Liptovská Porúbka and most of the outside is now complete as well as the living area and office. Since I first came to Slovakia in 1996 I have admired the traditional architecture here, particularly wooden houses with blue painted plasterwork, so we decided to incorporate these elements. The house was built in the 1930s by Svetlana's grandfather, who had his blacksmith's workshop in the basement. We hope it will not be much longer before we are able to offer bed and breakfast accommodation in a fantastic location, right on the edge of the Low Tatras National Park.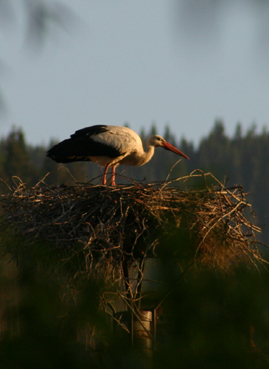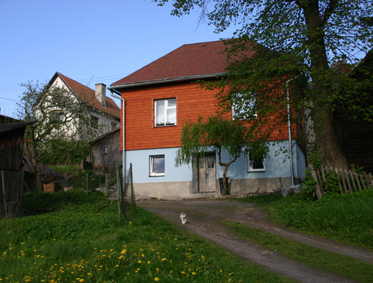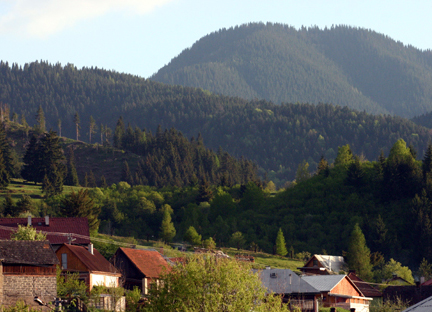 Thanks to Štefan Šramka, deputy chairman of the Association of Mountain Villages of Slovakia (AMVS), we had a unique opportunity to speak to more than 50 community leaders at the AMVS members' meeting in Mýto pod Ďumbierom on 6 May. We gave a presentation on
"The bear wolf and lynx - prevention and protection"
and also displayed our travelling exhibition,
"Bears and Us"
.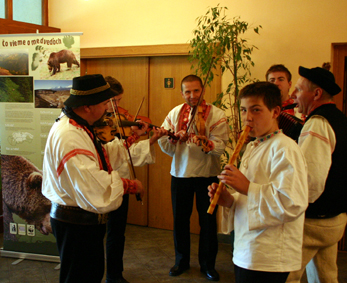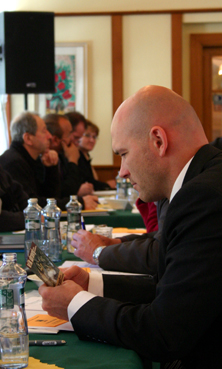 April
For our annual camping trip, fellow SWS founder Dave Lintott and I this year chose to spend a few days in Börzsöny, Hungary. Why is this relevant to bears in Slovakia? Because in 1984 a bear that had almost certainly come from Slovakia was shot there. SWS member Peter Bedo's wife, Emese, remembers seeing the dead bear displayed in her village. It is a wonderful area of oak-dominated forests near the River Danube. Peter and the national park rangers have been monitoring a single lynx, but there are no wolves there and since that one individual 27 years ago there have been no recorded cases of bears in the area; and we found no signs, either.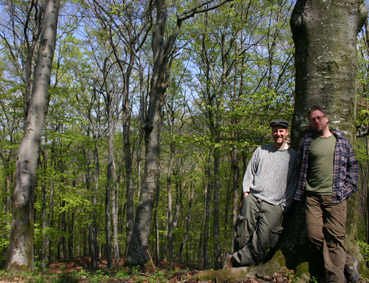 We saw some frenzied ant activity near Jalovec on 10 April, with several large nests literally covered in a seething mass of wood ants (Formicidae). Ants, their eggs and larvae are an important food item for brown bears, particularly in spring and summer.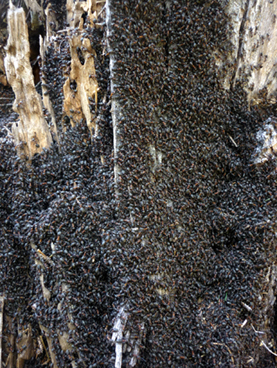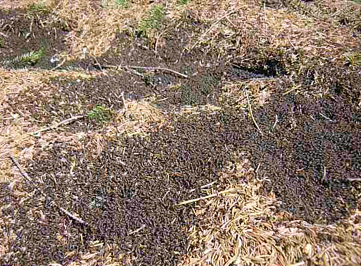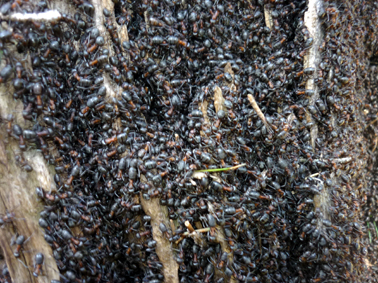 UK-based
Hotline Electric Fencing Limited
have generously donated enough equipment to provide three subsidised predator-proof electric fences. Our previous experience has shown that, if correctly installed and maintained,
electric fencing
is a very effective way of eliminating damage by bears. We have already received a request to provide assistance at Chata Červenec in the Tatras National Park and went to take a look on 1 April. The hut is located deep in the mountains, surrounded by forest, and since last year they have been having regular visits by a bear or bears, attracted by the smell from the refuse storage area. It was still difficult to reach the site in spring even by a tractor with chains due to patches of snow and ice, but the bear had already been before us.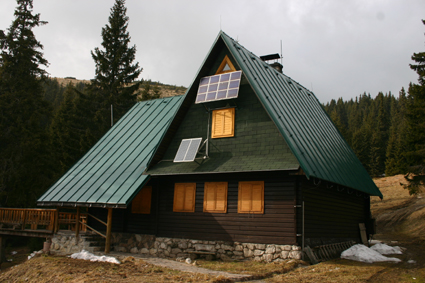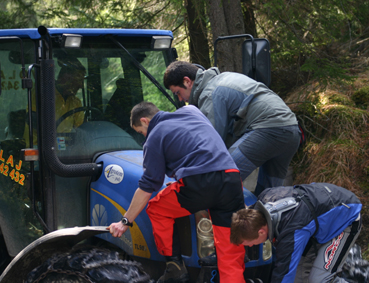 March
After years of patient work lobbying for the use of effective methods to prevent damage without necessarily killing bears, we are finally starting to see some fruits of our labour. Marking a major change in policy, Environment Minister Mr. József Nagy and Director of the State Nature Conservancy of the Slovak Republic Dr. Ján Zuskin held a press briefing on 29 March at Donovaly in the Low Tatras to explain a new emphasis on taking steps to prevent conflicts between people and bears, rather than relying on shooting bears to solve problems that have already occurred. We were asked to demonstrate one of our
bear-proof bins
, which we first developed and tested successfully in 2007. There is still a long way to go until such measures become commonplace, but this could mark the beginning of a new era in bear-human coexistence in Slovakia. Let's hope so.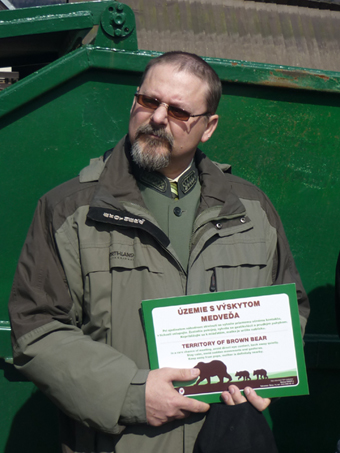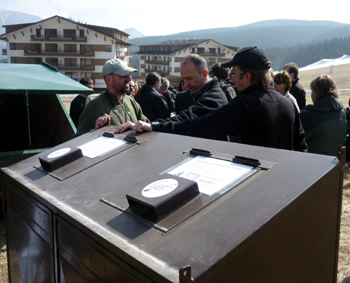 Bears are now active in several localities, for example in the Tatra Mountains and Veľká Fatra. They include a large adult male in the Western Tatras which was fitted with a telemetry collar in the autumn before denning for around 3.5 months. National Park staff reported that he emerged from his den, in a cave, on 5 March. According to Pavol Majko, director of the Tatras National Park, by the end of the month this bear had moved to the neighbouring mountain range, Chočské vrchy, crossing a main road in the process. In the eastern part of the Low Tatras on 6 March, Peter Bedo and Balazs Ferenczi came across the aftermath of a "fight" between a plastic watering can and a bear. The watering can lost. The bear seemed to have dug it out of the snow, no doubt attracted by its smell. Peter had already come across fresh bear tracks in Veľká Fatra on 20 February.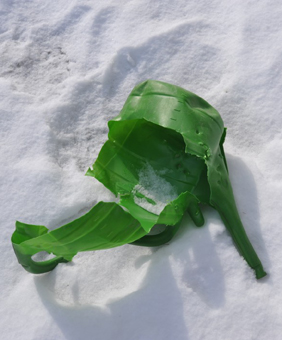 Photographs: Peter Bedo, Balazs Ferenczi, Robin Rigg
February
There are signs that 2011 could be a year of major change in bear management in Slovakia. We welcome the
17 February announcement
by Environment Minister József Nagy of a range of measures to reduce human-bear conflicts. These include support for the installation of bear-proof bins, an information campaign to inform the public and new procedures for dealing with problem bears. We have been active in all these areas since we launched The BEARS Project in 2003 and have repeatedly called on the Slovak authorities to implement measures that have proven to be effective. We were given the opportunity to present our work to the Environment Ministry and are cautiously optimistic that, if properly implemented, the changes planned could bring a positive benefit to both people and bears.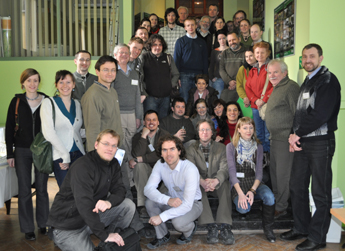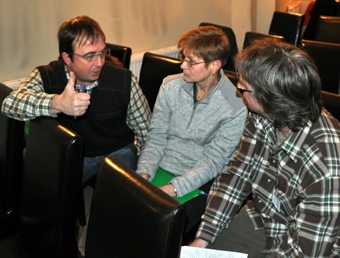 Photographs: Nuria Selva, Martin Straka
As part of the project "Preparation of the management plan of selected endangered and conflict species in Poland", Warsaw University of Life Sciences invited us to take part in an International Workshop devoted to the preparation of management strategies for populations of the brown bear and other large carnivores in Poland. The purpose of the workshop was to consult with researchers involved in the management and conservation of the brown bear in Poland, Slovakia, Czech Republic and Ukraine, from both state authorities and non-governmental organisations. Leading European bear experts Jon Swenson (Norway/Sweden) and Djuro Huber (Croatia) also took part. The need for greater communication and cooperation was repeatedly stressed during the workshop, as was the importance of effective damage prevention measures (electric fences, bear-prof bins, educating the public). As an important aim of the workshop was to strengthen the cooperation among neighboring countries in the Carpathians, we hope it will encourage the Slovak authorities to pursue similar goals.
January
Following last year's successful launch of
"White Wilderness: winter wolf and lynx tracking in the Tatra Mountains"
, which was featured among National Geographic Adventure Magazine's "25 Best New Trips for 2010", we are continuing this vital work in 2011. The project brings together international volunteers and local people, nature conservationists, foresters, landowners and hunters. Under the close supervision of experienced project staff, volunteers track wolves and lynx and collect samples for DNA analysis, which will allow us to determine the minimum number of animals in the area as well as to detect changes which could require urgent intervention.