Project diary 2007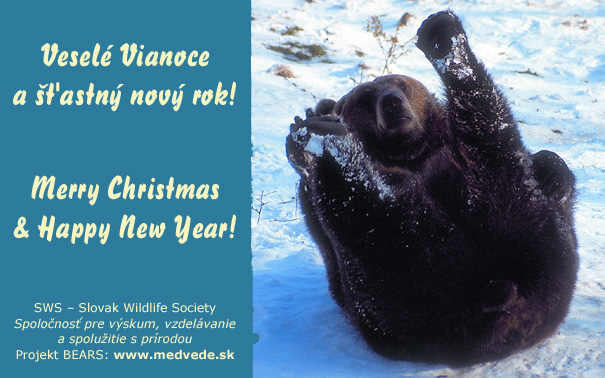 December
We have succeeded in getting communal waste in the Strelnica area of Harmanec cleared up. The Community Office together with coucillor Mr. Štrbák, in cooperation with us and funded as part of our waste management project supported by Alertis - fund for bear and nature conservation, arranged the fencing off of refuse bins, around which an unsightly mess often built up. This was not only unpleasant to look at but also, as the bins are next to blocks of flats right on the forest edge, attracts wild animals including bears. In the not too distant past a bear got used to feeding on refuse at this location to such an extent that it had to be shot. The newly installed fencing should prevent bears and other animals from getting access, as well as helping to keep the site tidier. More ...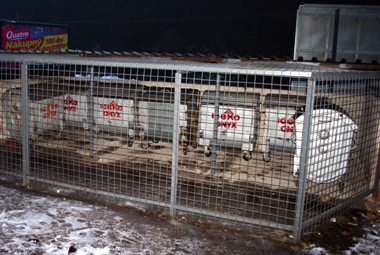 December was also a time of consultation and negotiation. The Polish Institute of Nature Conservation of the Polish Academy of Sciences organised a seminar on the Transboundary Management of Large Carnivores in the Western Carpathians (Poland-Slovakia), to which we were invited. After so much talk this year of shooting more bears in Slovakia, it was a welcome opportunity to present our work as well as to emphasise the need for other, non-lethal solutions to bear-human conflicts. As Slovakia and Poland share the same populations of bears, wolves and lynx, what goes on in one country affects what happens in the other. International cooperation and planning, as well as sharing of expertise, are therefore very important. We also held useful discussions with representatives of not only the State Nature Conservancy but also the Agriculture Ministry, which oversees hunting management in Slovakia.
November
An unexpected amount of snow fell in the second week of November: as much as half a metre in some localities. We didn't find any tracks of bears in the Tatras during this time, which foresters also told us during a census of chamois. In other parts of Slovakia with different conditions, such as in Poľana and Malá Fatra, bears were still active. We anticipated that if warmer weather and a thaw came, bears would re-emerge in the Tatras, too. Our prediction was right, because during fieldwork around Podbanské on 21st November we found tracks of a bear and a smell alerted us to a carcass nearby. The bear had been going to the remains of an old female red deer. It wasn't possible to say if she had been killed by a predator or shot, as there were only the remains of the spine, ribs, legs and skull.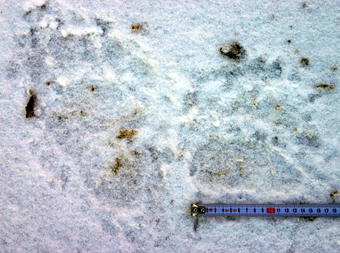 As there were good snow conditions during the weekend of 10th-11th November, a large-area census of large carnivores was conducted in Poľana in which we took part together with cameraman Roman Dobrovodský. On the first day, four bear tracks were counted on our survey section, not far from Kyslinky, though not all of them were fresh. It snowed during the night and on the second day we didn't find any new bear tracks. Bears were clearly concentrated around hunters' feeding sites at lower elevations. Nevertheless we had a nice experience observing a wild cat and an Ural owl. Preliminary results of the census are that in an area of c.250km2 there were 42 bears, 5 wolves (of which 2 were shot by hunters the following weekend), 10 lynx and 5 wild cats. It should be said that, prior to hibernation, bears can concentrate in a smaller area, with a resulting increase in local population density. It is known, for example, that bears from Poľana make seasonal migrations to food sources at lower elevations such as pre-harvest crops or acorns in oak forest communities. More ...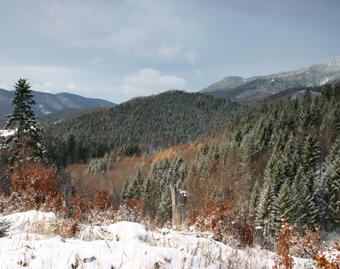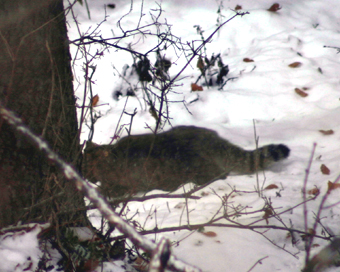 We also took part in the 9th Beskyd Howling Wolf Patrol seminar, organised by hnutí DUHA in the Czech Republic. Their aim and effort is to support the natural migration of carnivores into Moravia from Slovakia. We had the chance to give presentations about bears and wolves for more than a few enthusiasts, who showed great interest and know-how.
October
We presented results of our work on bears and wolves at the 8th Conference on Research and Conservation of Mammals in Slovakia, organised in Zvolen by the following institutes: the State Nature Conservancy of the Slovak Republic, the Institute of Forest Ecology of the Slovak Academy of Science and the Department of Ecology and Biology, Faculty of Natural Science, University of Matej Bel in Banská Bystrica. In our presentation on bears we publicised some of the main points from our comprehensive study on the "Status, ecology and management of the brown bear in Slovakia", the final Slovak and English versions of which we are preparing for WWF. Thank you to David Guthrie of Tent With a View for supporting the distribution of information materials at the event.
This month we went in search of bears to several different mountain ranges of central and eastern Slovakia. As snow had already fallen at higher elevations, some bears in the Nízke Tatry moved down into the foothills, where they fed on rosehips. Similarly in an overgrown pasture in the lower ranges of eastern Slovakia we found a scat (faeces), the contents of which showed that a "gourmand" bear had fed on particularly large rosehips. We also observed bear activity in the Kremnice Hills, Poloniny, Veľká Fatra and Poľana, where an interesting sighting was the footprints of a larger and a smaller individual on the same path.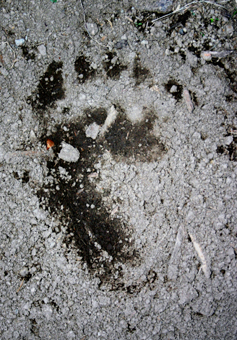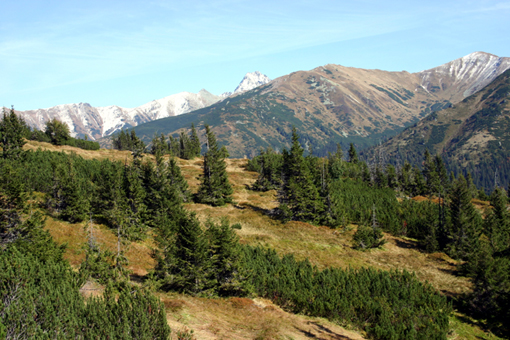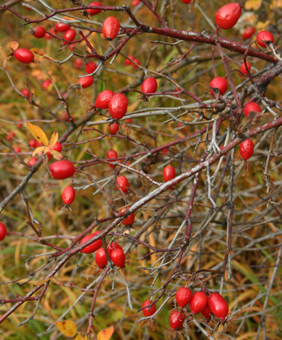 From our project "Waste management and bear conservation in Slovakia", sponsored by Alertis - fund for bear and nature conservation, we offered financial support to find solutions for securing refuse from bears in specific locations, especially in the High Tatras and Staré Hory Hills. We discovered, however, that it is not easy to persuade people to change their ways when they have the classic excuse prepared, that the problem is in the number of bears and nothing they can do will help. We were given a lot of support and help by Zuzana Kaliská, a retired member of Nízke Tatry National Park staff, who has experience from her time working in Demänovská Valley, where problems with bears have been successfully solved by the proper storage and securing of refuse.
September
We have improved our prototype container for securing refuse so that bears cannot get to it. The container had already proven effective with a problem bear in the High Tatras in spring, but during trials at Košice Zoo in July, some deficiencies became apparent. Together with the manufacturer we made further improvements and repairs, which took some time. This time, the container remained undamaged and two adult male bears were completely unable to get to food secured inside. Our thanks go to Richard Morley of the Wolves and Humans Foundation and Milan Lorenc, the bears' keeper, as well as director Štefan Kollár, for making the trial possible.
Since the summer we have been talking to local residents and trying to cooperate with officials in areas where such bear-proof bins need to be installed. We hope that in spite of several complications, and sometimes a lack of interest, we will manage to install several such containers by the end of the year. More ...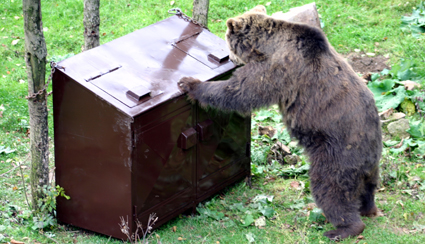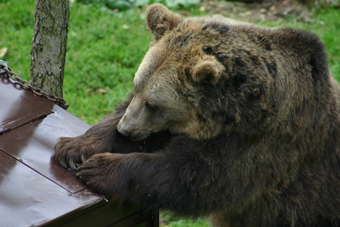 We took part in the St. Hubert's Day celebrations at the Museum of the Liptov Village in Pribylina on 30th September. Besides various education materials we also exhibited a bear-proof bin. The reactions of the particpants were varied, from expressions of interest and questions about our activities, to those who avoided us or looked at our materials in silence. But it was a success for us that a few hunters showed an interest and even discussed with us what we do. We think that in such a calm and reasonable way it should be possible to achieve a lot more.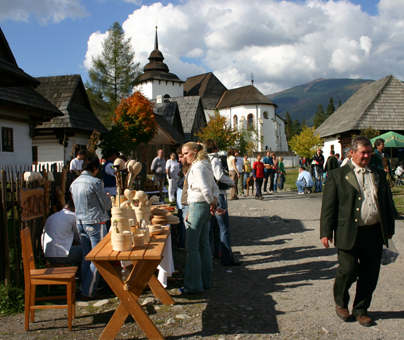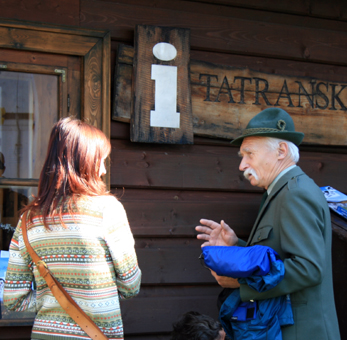 Our fieldwork this month was focused mainly on Tichá Valley and other parts of the Tatras National Park. Bears were very active during this period, feeding mostly on cowberries which, unlike bilberries, withstood the snow and freezing temperatures early in the month. We saw bears most often in the sub-alpine vegetation level, on small meadows among dwarf pine or in avalanche chutes. On several occasions we could observe them feeding for a few hours during the daytime as they built up their winter fat reserves.
August
During a 7-day camp with 14 teenagers from Germany and 5 from Slovakia we tried to show as much as possible of the countryside unknown to them. In the surrounding hills of the Západné and Nízke Tatry we searched for tracks and signs of carnivores. We did not have to look far for bears: they were attracted by the pervasive smell of ripening raspberries along the paths. We found bear faeces not far from the main road and in the forest there were bite marks in wood. This showed that spending a week in Račková Valley was the right choice with the aim of seeing the tracks of bears as well as glacial lakes and magnificent views that motivated inexperienced youth from Germany to hike up the valley. More ...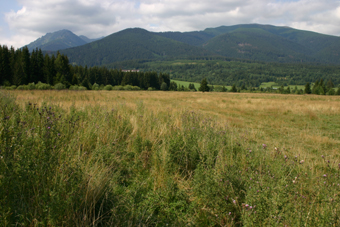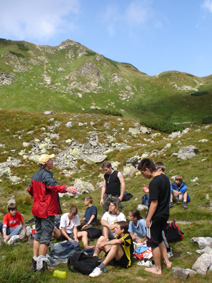 July
During the summer we sometimes observed more bear activity in foothills and valleys than deeper in the mountains. It was clear that this was often related to the availability of food. For example, on 29th July we found evidence of bears feeding on abundant raspberries just 100m from the main road between Kráľova Lehota and Čertovica, but no other sign of bears throughout the rest of our trip to Veľký Bok in the Nízke Tatry Mountains.
Another case was when we tracked a female with a young cub on the edge of a campsite near Liptovský Hrádok. We had been surprised by some tourists who told us they had seen a bear in the area, but we soon found the place where they were crossing the River Váh. A little more investigation revealed that the bears had been attracted by the remains of a dead cow which someone had left at the side of a public footpath. We took plaster casts of the prints, alerted the campsite owner and informed the local National Park office. Once the attractant was removed, the bears stopped coming, which supports our view that many conflicts can be avoided without shooting bears.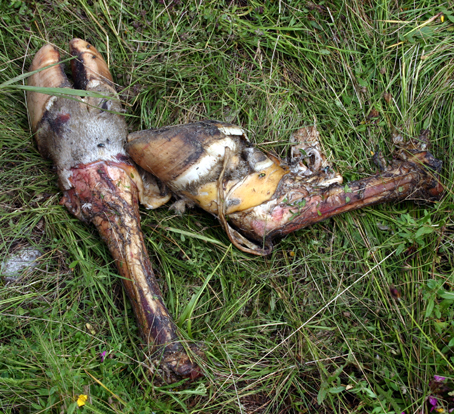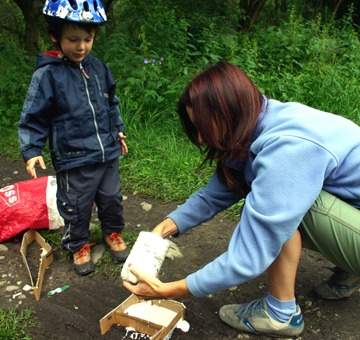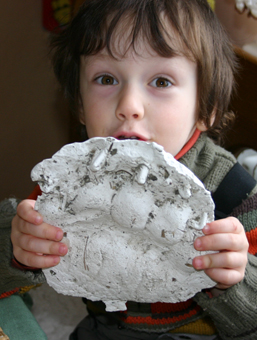 With help from Rasťo Dobrovodský, we transported our prototype bear-proof bin from the High Tatras to Košice Zoo for a sterner test with two adult bears, including Kubo, an enormous adult male. The bears were initially very cautious around the strange container, but by the morning of the second day, Kubo was getting hungry and, as his breakfast was secured inside the bin, he was more motivated. The container's construction withstood his attempts to open it, but his enormous strength allowed him to easily manipulate more than 100 kg of metal that had been carried into his enclosure by 4 men. He upended and bashed the bin down onto the ground several times, rolling it alarmingly close to the electric fence that keeps the bears inside their enclosure. Eventually, the doors popped open and Kubo got his breakfast. Nevertheless, the test was a success as Kubo only opened the bin because he could move it around: when in normal use, it will be secured to the ground. We thank zoo-keeper Mr. Dučak for his help and director Štefan Kollár for allowing the trial.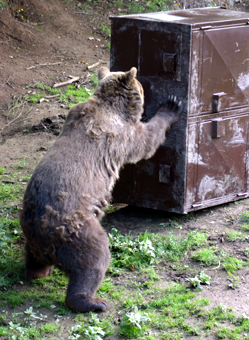 June
On 29th June – 1st July 2007 we took part in a census of bears in Malá Fatra together with cameraman Rasťo Dobrovodský, which was organised by Malá Fatra National Park administration. We were divided into pairs and assigned to separate locations where bears were expected to occur, where we were to observe with the help of binoculars or a spotting scope during the course of 3 days. With Rasťo we arrived at our assigned section, Steny, on Friday evening. That day and the following morning we saw many red deer on both sides of the main ridge, including groups of hinds with fawns as well as small herds of stags, but no bears. After a cold night spent in sleeping bags on the ridge we therefore decided to move lower down the hillside.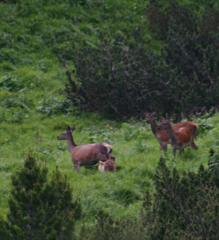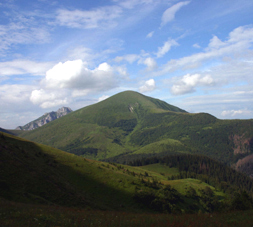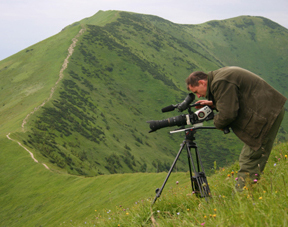 As soon as we got near the upper timber line we started to find signs of bear presence (faeces, diggings). We were surprised to see bilberries already ripe. We chose a suitable spot with a good view, set up our shelter and waited to see if a bear would appear. During the day and in the evening we saw red deer alternately grazing and resting. Just before dark Rasťo excitedly declared, "Bear!" Quickly, we took our binoculars and focussed on something dark and large that was digging in the ground at the forest edge. A little disappointedly we found that it was a wild boar. Shortly afterwards a beautiful full moon rose, but our imaginings of night-time viewing by moonlight were ended when it soon disappeared into cloud. So ended our second day of observation. More ...
May
During the night of 11th to 12th May 2007 for the first time we tested a specially designed bear-proof refuse bin at a hotel in the High Tatras where a young bear has been a frequent visitor. The hotel, together with several chalets, is located next to the main road from Tatranská Lomnica to Poprad. The young bear got used to visiting refuse bins at the hotel which it can easily open, not far from forest cover.
In order to reduce such cases, we had a special container made, which is closed in such a way that only a person can open it. Together with staff of the Tatras National Park administration we installed it at the hotel and filled it with refuse from the kitchen so that we could test it and, if necessary, make improvements. The bear tried to open the container several times during the night, but was not successful and so tried its luck elsewhere. It could open the hotel's original containers easily and even climbed right into them. More ...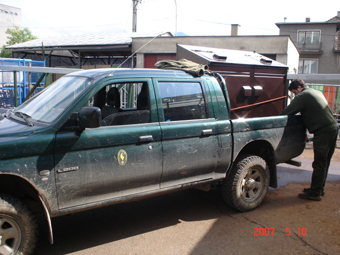 April
During the week of 23rd to 27th April 2007 we took part in an interesting, it can be said "international" project with pupils of Liptovský Hrádok Art Primary School's art department. The event was organised by SWS – Slovak Wildlife Society, which invited artist Alex Rigg from Scotland and together with him we created an unconventional bear den. The idea was simple: in the garden of the kindergarten on Hradná Street we wanted to make a shelter for children, where they could play but also think a bit about it. In "art" class, kids from the kindergarten made their own model dens, according to which Alex created the final design in the shape of an Eskimo igloo. More ...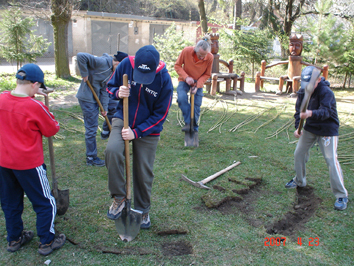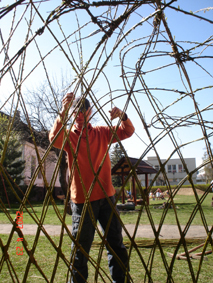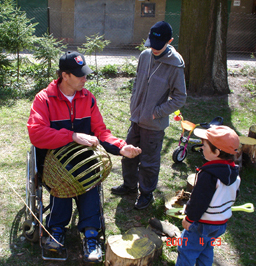 March
On 13th March in Kremicke vrchy near Badin primeval forest reserve we tracked a female with a cub of the previous year. At several places she had broken open tree stumps and old fallen trees, searching for insects. There were also tracks of a large bear, possibly a male. His tracks led directly to a shelter next to a hiking path. Using teeth and claws he had ripped off several shingles, leaving two holes in the shelter. The reason: someone had left rubbish, including an empty can of fish. The fish oil must have attracted the bear. A few metres from the shelter the bear marked a large tree with biting, claw marks and rubbing.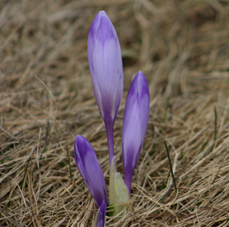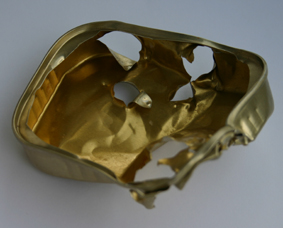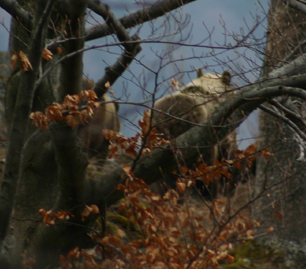 During fieldwork on 6th March 2007 SWS staff discovered that bears in the Western Tatras had already woken. Tracks found at 900-1000m a.s.l. and a couple of days old showed the activity of two individuals, one of which was probably relatively large. On the previous day we found fresh tracks at the edge of the Nízke Tatras at c.600m a.s.l. between the village of Liptovský Ján and the town of Liptovský Hrádok. In that case the bear had been attracted by feed for game left by hunters. For comparison, in 2006 we found the first bear tracks in the Tatras on 28th February.
February
When colder weather and long-awaited snow came, bears in the higher mountain ranges of central and northern Slovakia finally entered their dens. Although bear tracks were apparently seen at the foot of the Western Tatras in mid-January, according to Dano from Pribylina these were covered over by fresh snow a week later and no new tracks appeared. In localities that we checked in the Low Tatras, Veľká Fatra, parts of the Belianske Tatras and Spišská Magura there were no signs of bears up to the end of February.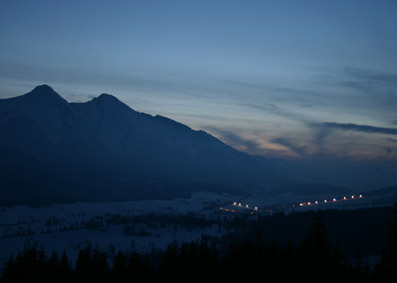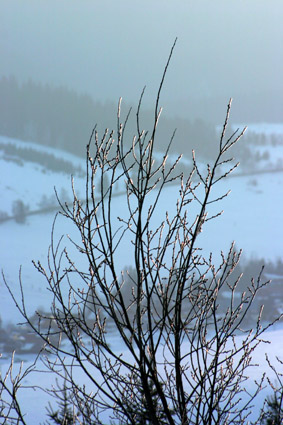 In lower, warmer regions, however, the situation is different. In the east Kamil from Stropkov informed us that bears were active in mid-January and also in February and it is possible that some have been up and feeding almost all winter. Brothers Rasťo and Roman Dobrovodský saw a female with yearling cubs in the vicinity of their den in Poľana as early as 17th February. During the winter denning period young bears are born. The mothers of newly-born cubs stay in or near their dens on average one month longer than other individuals and nursing mothers may lose up to 40% of their autumn weight.
If temperatures continue to rise, bears elsewhere will probably begin to emerge, which at this time of year would be nothing unusual. The causes which determine when bears wake in spring have not yet been completely confirmed by scientists. According to a long-term Scandinavian study, the date when bears begin denning is closely linked to first snow and so can be different every year. The date of emergence, on the other hand, is relatively stable and unconnected with snow conditions, which could mean that the decisive factor is temperature or light (day length).
January
Together with cameraman Rastislav Dobrovodský on 30.12.2006 to 1.1.2007 in Poľana we tracked or met at least 14 individuals. Bears of all age classes were active, including females with cubs, subadults and large males. The locations where we tracked the bears were from 800m above sea level.
It is not unusual for some bears to be active during winter. In warm areas bears may not hibernate at all, such as American black bears (Ursus americanus) living in Florida. However, researchers in the Cantabrian Mountains of Spain have recently reported that climate change appears to be making this more common in other regions, too. Evidently the large number of bears active in Slovakia this January is linked mainly to the unseasonally high temperatures.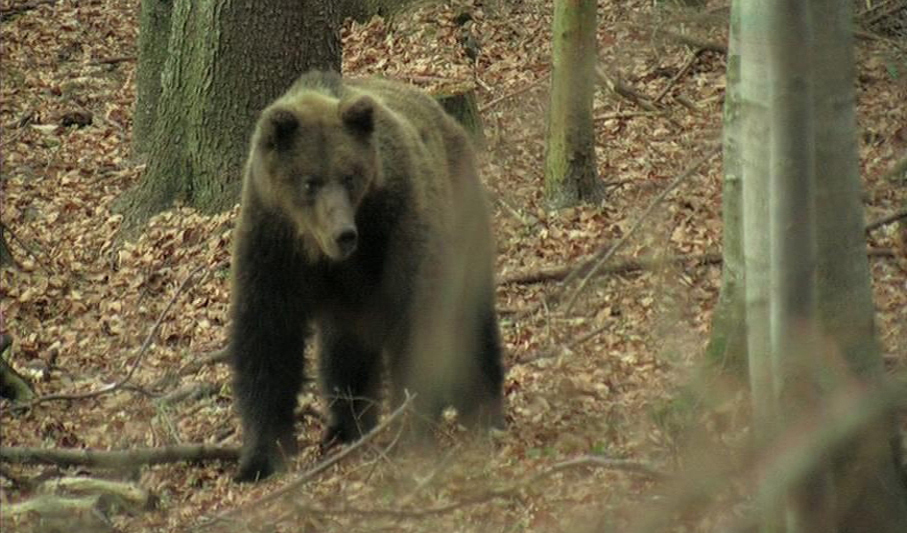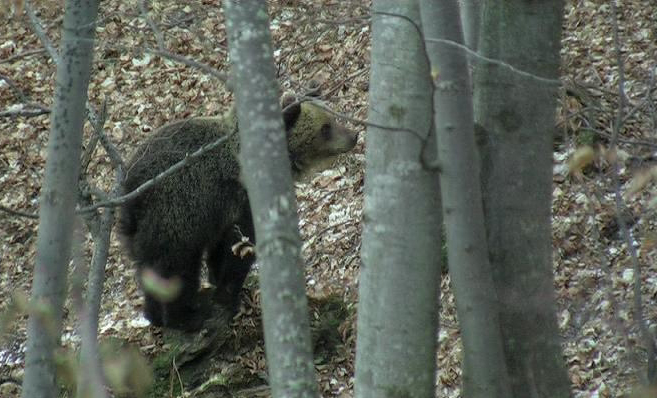 Photographs: R. Dobrovodský
The main purpose of hibernation is probably to reduce the amount of energy that animals use up during periods when there is little food available. "We tracked bears in Nízke Tatry and Poľana for several kilometres and we saw hardly any sign of them feeding, even though they were in areas where hunters feed game animals during the winter. It appeared that their metabolism was already reduced", said Robin Rigg, Slovak Wildlife Society zoologist and leader of the BEARS Project. Bears can take several weeks to drift into and out of hibernation, during which time they have little appetite and are generally slow and lethargic.