A cub's first year
The following passages describe a typical year in the life of a bear.

(Translated from the 1968 book Šelmy hľadajú domov by Vladimír Pazourek.)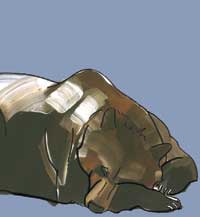 January
That night the she-bear opened her eyes, but because of the dark didn't even see the snow in front of the den. In fact she opened them not out of curiosity but for a quite different reason. Something was happening in her innards, someone there had started to move vigorously and push outwards...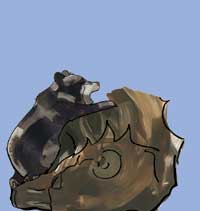 February
His fur grew slowly and in the first few weeks his size didn't change much, at least not fast enough for it to be visible. He was blind for four weeks; his eyes did not open until the end of February. He snuggled up to his mother, fed on her milk and slept contentedly near her, almost in her arms...
March
Light lured the little bear on. Once he awoke and his open eyes caught the sun's reflected rays. He stood up and headed towards the irregular rectangular cleft between the walls of rock from which came so much brightness... In front of him was the forest, that strange thing that he had never seen and was yet to know...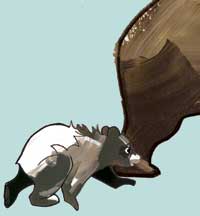 April
The cub, already as big as a poodle and adorned with light yellow-brown fur, bushy like a lady's glove, tottered beside his mother, staggered behind her or occasionally even went in front. He lay in the sun on the flat rock before the start of the steep hill and alternated short naps with clumsy walks...
May
The cub didn't want to climb a tree. He didn't have courage, he was afraid. When he managed to scrabble about a metre off the ground, thanks to his mother's constant encouragement and intervention, he spun like a ball and fell to the ground. It was an unpleasant encounter with a place where he had always stood safely on at least two legs, if not all four. Now he had his legs in the air and howled tearfully. His plight didn't move the she-bear: she quieted him a little and again pressed him to the trunk...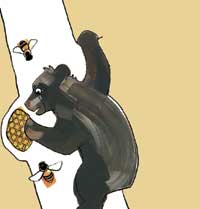 June
Something inexplicable convinced them both that they were not enemies and did not need to worry about the other's selfishness. The bear climbed up to the beehive again and the second, undoubtedly a young she-bear, ate the honeycombs that fell to the ground. From that time they became inseparable friends for many days. They travelled together day and night and slept side-by-side, the nose of one resting on the head of the other. They freely shared the food they found, each giving the other more than he kept for himself...
July
When his mother stretched out her paw and gave him a handful of big, red berries, he stuffed them straight into his mouth. He knew the taste of raspberries and got quite frantic for them. He forgot how far they had to go, what troubles probably awaited him on the way back! He started to pick raspberries dextrously, smearing his snout and paws with them, the sweet juice sticking around his eyes, gobbling whole piles insatiably, eagerly stuffing them into his mouth and thinking of nothing else...
August
Something made him want to touch that ball, with its small head and little legs. At the same time something inside him spoke up warningly, making him cautious. Eventually he tapped the animal, which instantly hunched its head in toward its belly... The pain that the spines caused him was unenviable and was like the prickling of a blackberry bush...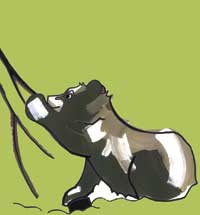 September
When he lay and looked at the yellow fruit, his senses of smell, sight and taste told him they might be good to eat... Apple after apple disappeared down his throat, until he had picked all that hung on the protruding branches. He felt he had eaten his fill, but in him awoke the old bear's craving to eat everything within reach... One particularly fragrant apple led him to a neck-breaking feat: he stood on his back legs and with his front paws reached up into the crown to pick the apple. But as he stretched he lost his balance immediately... He raised his head, looked a little sadly, a little reproachfully, at the place he had fallen from and shook his head. But he didn't just see the branch he had fallen off, but also that apple, shining like a taunting face...
October
He was left with the stream as a reliable provider of meat. A young loner, in a pelt that had become grey, thick and long ahead of winter, he went to the ford everyday to hunt. He already knew how to get fish quickly: he went into the water sensibly, with eyes focussed on a spot teeming with fish. He knew how to grab with both paws and from time to time he managed to toss a fish onto the bank...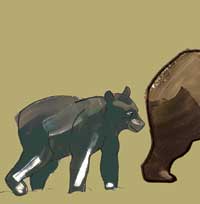 November
One day white snowflakes began to blow about in the air. They fell to the ground and lay there. The little bear watched the new vagaries of the weather curiously; excitedly he chased the flakes but couldn't catch a single one, even though they fell very slowly...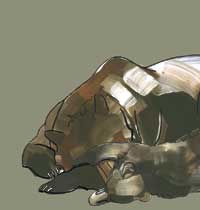 He settled into an old badger hole that he had worked long and hard to repair and enlarge. A heap of dry grass and a little fur remained in the burrow from the former occupant. The little bear flattened out the bed and lay down. He scratched his throat a few times, stretched his legs then tucked them up and fell asleep...
December
Once he woke up and curiously looked about. He was thirsty, so got up and left the den. Outside everything was under snow; it lay on bushes like ruffled covers; tree crowns were garnished all over with gloves of snow and on the trunks gleamed clumps of snow, caught on the bumps in the bark...