About us
The Slovak Wildlife Society
SWS is a not-for-profit organisation specialising in carnivores such as the brown bear (Ursus arctos), grey wolf (Canis lupus) and Eurasian lynx (Lynx lynx). By developing effective measures to reduce conflicts, SWS aims to foster greater understanding and acceptance of native predators. We provide expert knowledge and assistance to local communities in implementing non-lethal measures such as livestock guarding dogs, electric fences and bear-proof bins. Our scientific research provides authorities with a sound basis for management decisions as well as contributing information to education and awareness campaigns, in which we are also very active.
The involvement of local people has been integral to our work since our establishment in 1998. We work with volunteers and provide practical and financial help for those most affected by carnivores. We also operate one of the longest-running wildlife tourism programmes in Slovakia, benefiting people and wildlife since 2000. We are active members of the International Union for Conservation of Nature (IUCN), the International Association for Bear Research and Management (IBA) and the Large Carnivore Initiative for Europe (LCIE). For more information contact us or visit our home page: www.slovakwildlife.org

The BEARS Team
Robin Rigg is a UK-born conservationist and researcher who has lived in Slovakia since 1996. He has a Bachelors degree in natural science from Cambridge University and a Masters in zoology from the University of Aberdeen. The main focus of his work is on the long-term conservation of large carnivores through improving coexistence and reducing conflicts with local people. He has set up and led several innovative projects in his adopted country, including the Protection of Livestock and Conservation of Large Carnivores, The BEARS Project and the Slovakia Wolf Census Project. He is the chairman of the Slovak Wildlife Society, which he established in 1998, and has been an active member of the International Association for Bear Research and Management (IBA) since 2002. In 2009 he was invited to join the IUCN-IBA Bear Specialist Group's expert team on Human-Bear Conflict.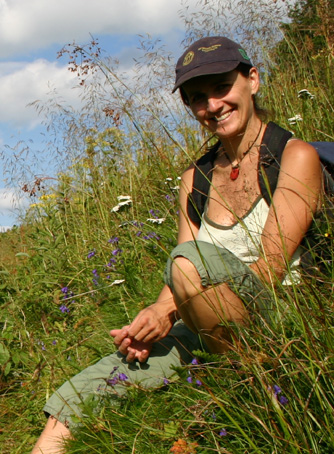 Svetlana Beková is a local mountain girl from Liptov who has been going to the Tatras all her life. Her love of nature led her to become actively involved in wildlife conservation projects, monitoring chamois for the Tatras National Park and subsequently working for the Slovak Wildlife Society on various bear- and wolf-related projects. Svetlana is an experienced guide as well as a qualified ski instructor. She is also an art teacher and her role in the team includes developing and leading environmental education activities. She is the author of acclaimed teaching materials, "In the Tracks of Bears" and "In the Tracks of Wolves".