2009 competition
PRIZE-WINNERS IN THE 2009 COMPETITION
"What do bears dream about?"
Dear pupils and teachers!

Thank you for all your contributions to the competition "What do bears dream about?", of which we received a record number this year: a total of more than 1,900 entries! 133 schools from 51 districts of Slovakia took part. We also received contributions from primary level art schools in Serbia and Hungary. It was not easy to judge such an amount of work and we had to prioritise those that completely answered to this year's theme, which was meant to be a stimulus to think about what bears dream of, what they would like, what they imagine, what they are afraid of, etc.
From your work we found out that bears most often dream of honey, of cubs or of rich supplies of forest fruit for the winter. But some bears also dream about taking a whole container of rubbish into their dens for the winter. Others are more focused on sport, for example they would like to try skiing or skating. Some would even have a go on a roundabout or sing in a rock band. Your ideas enriched us and kept us entertained.
When judging we took into account not only the idea and its execution but also how you managed to capture the spirit of these animals, their needs and threats in art or written work. We are glad that the theme interested you and we hope that you enjoyed yourselves and also learned something new.
Thank you to all the sponsors for the excellent prizes and the willingness of Jana Khoura and Svetlana Beková snr. for their help in judging the entries.
With best wishes,
Svetlana Beková
Education and public relations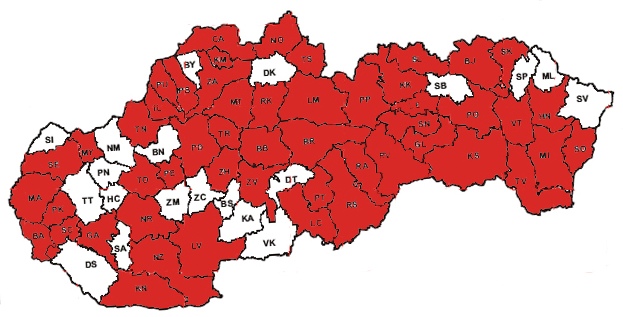 Districts from which we received entries are shown in red
2009 competition rules for "What do bears dream about?"


The 6th annual BEARS Project competition is organised by SWS with the support of Alertis - fund for bear and nature conservation and the EAZA European Carnivore Campaign