Project diary 2010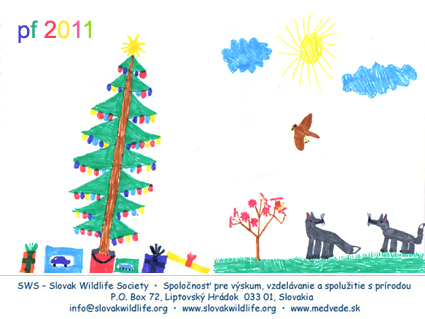 December
The "bear year" in Slovakia finished with
a shocking example of how not to manage bears
. A local animal shelter worker tried to immobilise an adult bear (found later to be a pregnant female) using a catch pole designed for a dog. The animal was surprisingly calm considering all the people and dogs nearby but was eventually provoked into biting him and was then shot dead by police officers firing towards the car in which the man had taken shelter. This case illustrates the need to have trained personnel in a dedicated Bear Emergency Team, clear procedures and protocols for interventions in critical situations and also a comprehensive management strategy to prevent problems reaching such extremes. This should include appropriate securing of refuse and other attractants to avoid incidents of bears seeking food in built up areas and a prompt, effective approach to dealing with any bears venturing into such areas.

Images: idnes.cz
November
The first major snowfall in Liptovská Porúbka, on the edge of the Low Tatras National Park at 650m, was on 24 November, but in the mountains winter is already much further advanced. In the Western Tatras, for example, two bears studied using telemetry equipment began denning on 18 October (an adult female) and mid November (adult male). The female was trapped and fitted with a collar by Tatras National Park staff on 2 April and from then until entering her den at 1630m she used a total area of around 123 km2, including moving as much as 22km/24h between high mountain berry-rich meadows at up to 1958m, hunters' feeding sites and fields in the valley below down to 773m. This home range - in one year only - is already larger than the size of territories previously "guestimated" for bears in Slovakia (10-30 km2 are the "traditional" figures most often repeated) and is likely to be dwarfed by the big male's range, although we will have to wait a little longer for that information as he was collared on 16 October, just a few weeks before he began hibernating.
October
Bears, like many other predatory species, tend to evoke strong opinions and divide people holding opposing viewpoints. Slovakia is no exception. For example, the struggle between those for and against hunting has dominated recent discussions. Media coverage usually focuses on the negative aspects of bears, often over-shadowing efforts to find effective ways to minimise the danger and damage they sometimes cause. To enable constructive progress, barriers of distrust need to be broken down so that positive dialogue can take place and lasting agreement reached. Achieving this will probably require a neutral facilitator, skilled in mediating negotiations. In mid October we hosted a week-long visit by Prof. Alistair Bath of Memorial University, Newfoundland, and the Large Carnivore Initiative for Europe. Alistair has extensive experience in this field. His approach is based on building trust between groups and motivating them to work together to find solutions. He was instrumental in the successful completion of management plans for bears in Bulgaria and wolves in Croatia, so is the ideal candidate for the job in Slovakia. The first step in the process was to meet with various interest groups (hunters, foresters, landowners, conservationists, farmers, researchers) and to listen to their concerns. It was clear from this that no one was satisfied with the present situation in Slovakia but, encouragingly, there was a great willingness to talk and to try to find a way forward.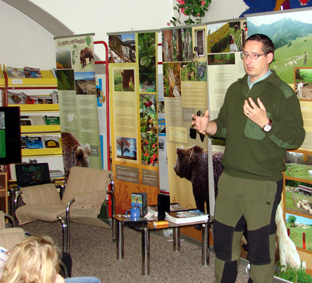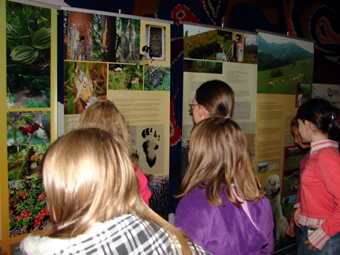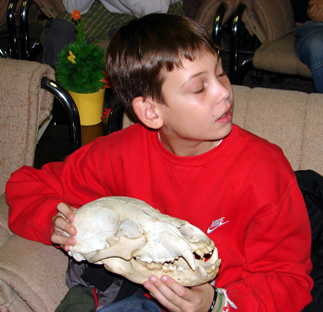 Photographs: Jaroslav Slašťan
September
On Thursday 23 September Gregg Losinski of the Idaho Department of Fish & Game gave a presentation at the Horolezecká chata in Horný Smokovec on
"Bringing back the grizzlies of the Yellowstone Ecosystem and learning to live with them"
. Gregg is a Regional Conservation Educator and works with grizzly bears in the Yellowstone area where, as in the Tatras, bears have been increasing in numbers and spreading beyond national park boundaries. Gregg has family roots in Štrba and was visiting for a holiday, but wanted to take the opportunity to present some of his work. As well as describing the results of research work on grizzly bears, which are a sub-species of brown bears (the same species of bears that we have in Slovakia), Gregg explained some of the management strategies used to minimise bear-human conflicts, and in particular the use of bear-proof bins, pepper spray, safe camping and the importance of educating the public about bears. These are all concepts that we are working to introduce in Slovakia. On behalf of our fellow organisers and all those who attended, thank you to Gregg for giving up his spare time and providing us with a fun and insightful evening.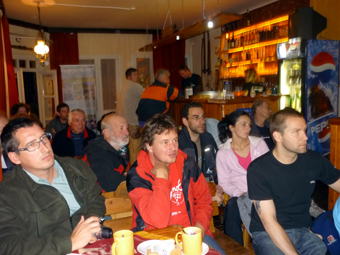 On the occasion of the 20th jubilee of the St. Hubert Days festival and the 90th anniversary of the start of rationalised hunting management in Slovakia, we took our
"Bears and Us"
exhibition to display at the annual all-Slovakia hunters' gathering at the manor house in Svätý Anton near Banská Štiavnica. Around 8,000 people attended the event, which had a rich programme including competitions in wildlife photographic and imitating deer calls, falconry displays and the chance to try fishing or archery.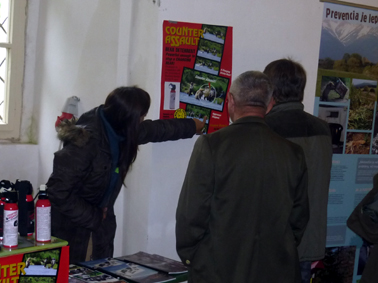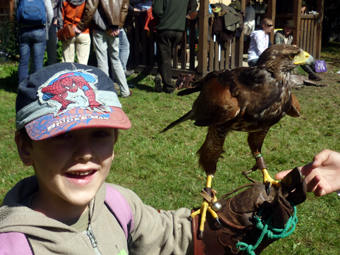 August
With substantial interest this summer in our
personal guiding service
we have been spending many pleasant days and nights out in the Tatras. We've also had plenty of sightings of bears: some distant views and some closer encounters. On 5 August we saw a bear feeding in an open area high above the valley bottom in Tichá and then, a few moments later, watched as a female with her two young cubs wandered over another meadow on the other side of the valley before crossing the ridge, momentarily standing beautifully silhouetted on the horizon.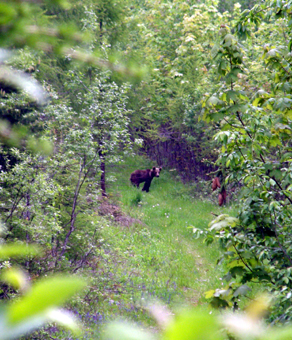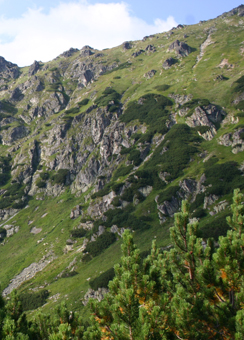 The beautiful landscapes in the upper reaches of valleys such as Tichá contrast with the stark appearance of areas affected by storm damage and subsequent logging. Many foresters believe that this has to be done not only to salvage timber but also to prevent outbreaks of bark beetles spreading out of control. Are they right or, as environmentalists and some forest ecologists argue, should broken and uprooted trees be left to provide the foundation for natural regeneration? The construction of new forest roads to facilitate logging provides easy routes in to previously inaccessible areas, not only for forest workers but also for tourists, mushroom pickers, bikers and, potentially, poachers. Is this appropriate in protected areas? Can large-scale bark beetle outbreaks be stopped, even with drastic intervention? Does intensive forestry work with heavy machinery displace wildlife: for example, could it be a factor behind the increased reports this year of bears in the vicinity of surrounding villages? These are important questions to which we do not know the answers: they require rigorous study, not mere speculation.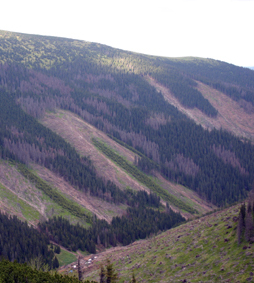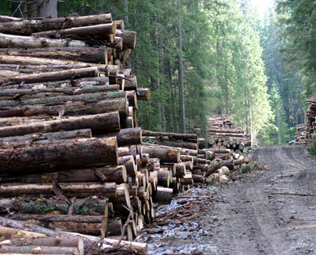 This year, ants seem to be very numerous in the foothills of the Low Tatras and we have come across several examples of bears focused on raiding their nests. For example, just before dark on 19 July we saw a young bear, possibly one that we have already recorded several times this year, moving between anthills in the meadows behind our village.
July
We've just had a fantastic experience. Although Tony and Louise were most interested in bears, I don't think they minded seeing a lynx! We had been up since 5am but by 7 had only seen a roe deer buck. He was very nice and came close to us as we sat quietly in the grass, still I thought we could do better so suggested we walk back towards a colony of marmots, which started going berserk as we approached. I've never heard marmots get that worked up about people and didn't think we could be the cause of so much consternation. Sure enough, there was a lynx walking sedately through the middle of the colony. It was the best sighting of one I've ever had: in good light, out in the open about 300-400 metres away from us. We watched it for almost half an hour, during which time it made several attempts to catch marmots, who were having none of it, and eventually disappeared into some dwarf pine (
Pinus mugo
). And all that before we'd even had breakfast!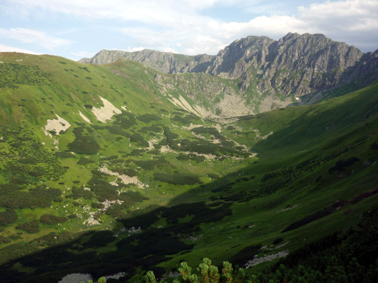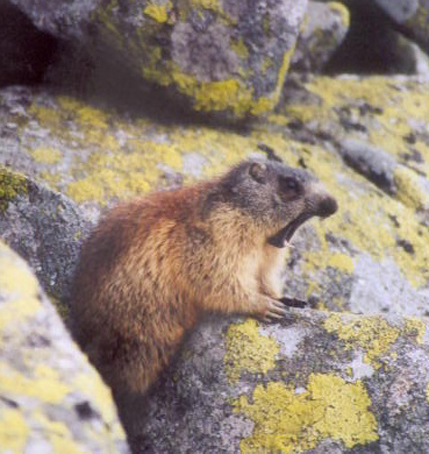 Together with Vysoké Tatry Town and the Association of Mountain Villages of Slovakia (AMVS), on 12 July we organised a working meeting with the title,
"How to avoid conflict with bears in the Tatras"
. We held discussions with representatives of the Town Hall, the State Forestry Service, the National Park and village mayors in the Town Hall meeting room in Starý Smokovec. In a presentation on possible preventive measures – securing containers, refuse, stores, beehives and other attractants from bears – we informed them about the possibilities for co-financing and expert help in installing such prevention from SWS's BEARS Project. We proposed particular measures in localities with high levels of bear-caused damage and an education programme for employees of tourist facilities, residents and tourists in the Tatras. As conflicts with bears in the Tatras cannot be solved by any one organisation acting alone, we hope we will be able to gradually build constructive cooperation with people who are affected and who want to solve the problem. Thank you to all the participants for their participation and above all Mr. Štefan Šramka of AMVS for his willingness and help in organising this meeting. During the afternoon after the meeting, we came across a red deer stag eating grass and flowers in the middle of Tatranská Lomnica. Tourists approached it to pose for photographs with young children, some petted it and one man fed it bread from his hand to encourage it to follow him. When similar things happen with bears, hunters and the media claim it is because bears are "over-populated". I wonder why they don't say that about deer.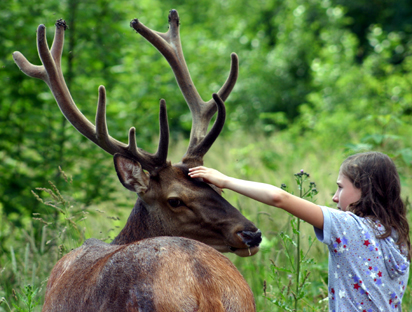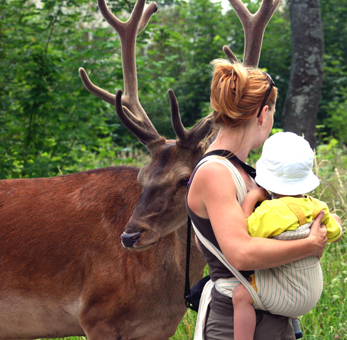 This year's cold, wet spring seems to have put back the growing season. The best time for alpine flowers in our area has been the second week of July, when we had some very hot and sunny weather. My friend Alex and I climbed over Slemä and on to Ohnište, where amongst much else of interest we saw Edelweiss (
Leontopodium alpinum
) in flower in several spots. This year there have also been more Turk's cap lilies (
Lilium martagon
) than I have ever seen before, as well as plenty of orchids.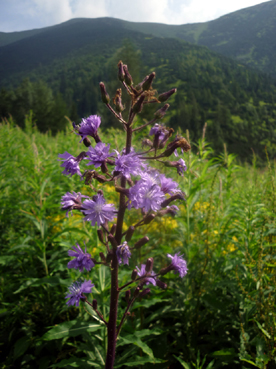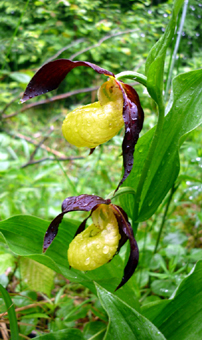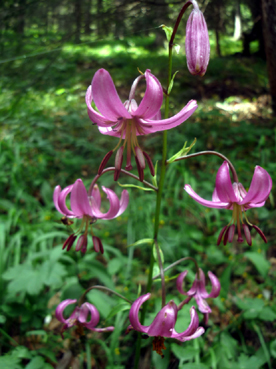 June
We ran our second Reintroductions Study Tour for those interested in exploring some of the issues that would face any potential reintroduction of large predators such as lynx or wolves to the UK. Participants had the chance not only to visit carnivore habitats but also to talk to local sheep farmers and to see some of the measures put in place to protect livestock, including electric fencing and a guarding dog provided by the Slovak Wildlife Society. Despite the continuing wet and windy weather, it was a fun and useful few days, rounded off with a sumptuous meal at the Grand Castle in Liptovský Hrádok. Thank you to Richard Morley for organising the UK side and also to Ivan Spilý for his excellent driving. All funds left over from the trip will go towards our ongoing work, both in the field and with the local community.
More ...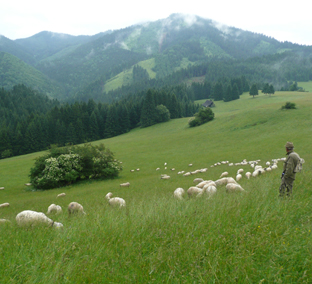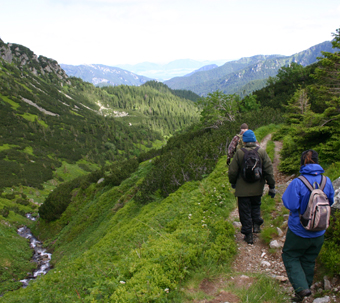 Photographs: Maggie Keegan
Matúš and I went to look for evidence confirming local reports of bears near our village, Liptovská Porúbka. Although Matúš was more interested in a spider trying to eat a grasshopper and various butterflies flying about the meadow, it didn't take long to find several ants' nests that had been broken open to get the eggs. The grass was still trampled down where a bear had walked from one nest to another and we also found a spot where it had lain down and some faeces in the meadow behind the church. Perhaps it was the female and cub that we met in the forest a few days ago with Willy's group?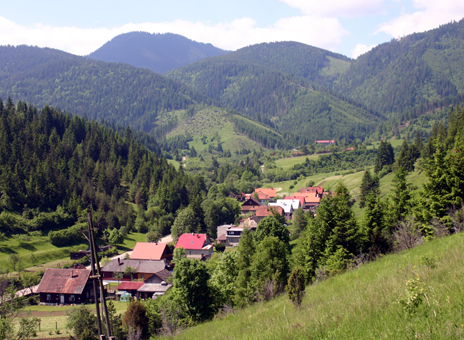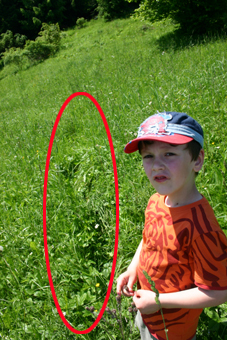 May
After a successful first visit in 2009, we were happy to welcome back Wilfried and Rosemarie Rieder, who brought an enthusiastic group from HALM önj biotope protection group, Salzburg. We had some very wet weather but, just as last year, we had a good view of a bear; in fact we even managed to fulfil Willy's condition that in return for re-arranging the dates we would see two bears. I must admit it happened at a moment when I thought our chances for the day had gone, as we came to the end of a small path emerging onto a forest road with sounds of chainsaws not far away. As I turned to look along the track, just 20 metres away stood a mother bear and cub. After a few seconds' hesitation they ran away, but both bears stopped to glance back, and group members had the chance to take some nice photographs. For Margot, in particular, her first (and second!) sighting of a bear was a very emotional moment.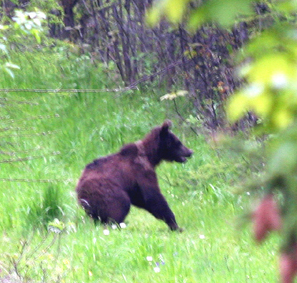 Photographs: Alex Maringer
It has been an unusually wet spring, with days of rain leading to serious flooding in eastern Slovakia and flood warnings across much of the rest of the country. For me there was a chance to escape the worst of the weather by attending the
19th International Conference on Bear Research and Management
held in Tbilisi, Georgia. The conference featured sessions on bear-human interactions, bear management and engaging local people in bear conservation. All these issues are addressed by our
White Dog Fund
, which we were presenting at the conference along with an analysis of the current status and management of the brown bear in Slovakia.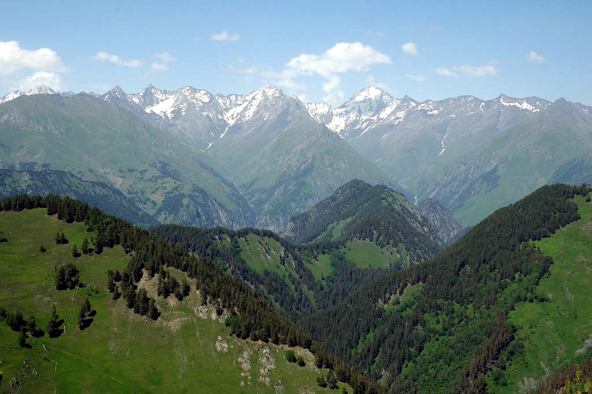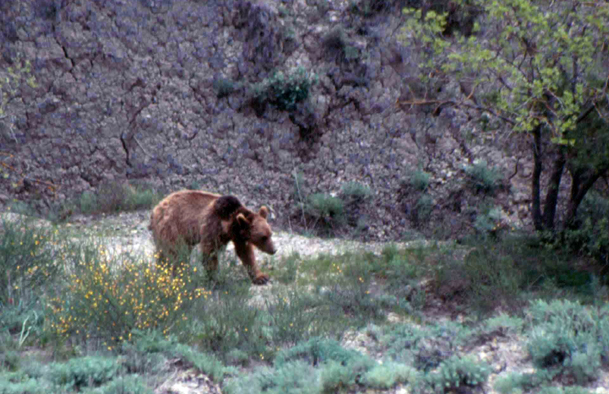 Photographs: Nacres - Biodiversity Conservation and Research
April
It saddened us to hear of a forest worker badly injured by a bear in the Tatra Mountains on 27 April. From the little information contained in the brief notification we received from the Environment Ministry, it is not possible to judge why the attack took place, but the letter says that the bear had been seen regularly near the village of Tatranská Javorina for the preceding 10 days. We have received three more letters from the Ministry dealing with other applications to shoot bears. In each case, it is mentioned that the bear had been seen repeatedly in gardens or near buildings. There are several reasons why this might happen. They could be young animals, perhaps in their first spring without their mother, stumbling on what seem to be easy places to get food. There are also several proven techniques to deal with such situations. If done quickly enough, young bears can often be dissuaded with
rubber bullets
,
bear scare darts
,
Laika dogs
and
pepper spray
. These are standard interventions in some parts of the world but have been largely overlooked in Slovakia. We have written to Dr. Ambróš at the Ministry to inform him of the possibilities and to offer assistance.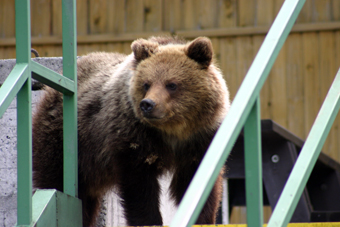 Last autumn we were contacted by a journalist from a local paper in Nitra who wanted us to comment on reports that bears had been observed in a "new" area: Tribeč. I thought I remembered reading that bears had been recorded near Nitra in the 1980s, so I checked. Sure enough, on page 77 of
"The Bear in the Slovak Carpathians and the World"
, by Hell and Slamečka, is a map showing sporadic occurrence between Nitra and Hlohovec. In the text on the same page it mentions that bears had been shot even further south and west, in the White Carpathians in 1972, in Börzsöny, Hungary, in 1984 and even in Austria in 1982. The journalist thanked me for the information but chose not to include it in
her article
, because none of the locals she spoke to knew about it. Instead she quoted the usual opinion of hunters, that young bears were being forced to go to Tribeč because there were "too many" in neighbouring Vtáčnik. This month Dave Lintott and I spent four days criss-crossing Vtáčnik from Handlová to Oslany without finding any sign of bears. That does not mean there are none there, of course, but the area was certainly not full of them, although we did see some beautiful forest (not all of it confined to reserves) and also confirmed the presence of wolves.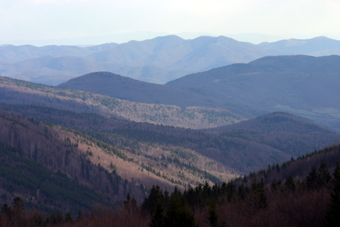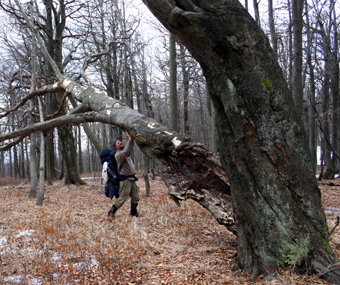 March
Following the huge success of
"Meeting the Bear"
, which was seen by around 20,000 people at 50 venues in 2005-2009, we have prepared a new exhibition about Europe's largest land-based carnivore.
"BEARS AND US"
presents informative facts about bears in an entertaining format. The wealth of photographs is supplemented with a Powerpoint presentation, educational film and plaster casts of bear footprints. A series of attractive banners contain information on what bears eat, why they hibernate and what threats they face. Like its predecessor, an important aim of this exhibition is to explain how problems between bears and people can be reduced, by protecting beehives and crops and learning how to avoid the riskiest situations as well as what to do if you meet a bear.
More ...

I paid a second visit to Vashlovani National Park as part of my consultancy work for the
Georgia Carnivore Conservation Project
. Once we had finalised our survey design for assessing conflicts between Tusheti farmers and wolves, we headed out from Tbilisi to interview livestock owners and shepherds. Their problems seem to peak during the February lambing season. Unlike in Slovakia, flocks of sheep and cattle are grazed outside over winter, making them vulnerable to predation. All the flocks we visited have several guarding dogs accompanying them around the clock and in many cases shepherds sleep in wooden bunkers next to the flock at night, as used to be the practice in Slovakia. Curiously, the biggest losses we came across were not at farms near tree cover but at the edge of the semi-arid plain on the border with Azerbaijan. I am looking forward to getting the results of the full survey. As during my first visit, we also saw some fantastic bird life, including Griffon vultures, Imperial and steppe eagles as well as Persian gazelles brought from Turkey, with the amazing backdrop of the snow-covered Caucasus Mountains in the distance. It is a beautiful area.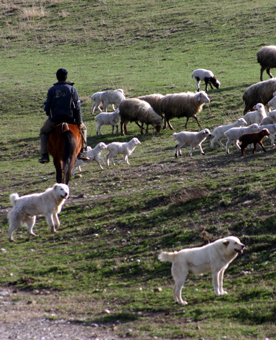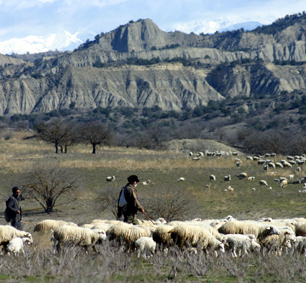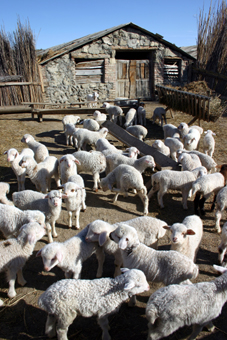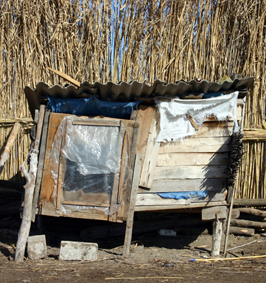 Photographs: Robin Rigg / Fauna & Flora International
February
It was a relief to get some more snow just in time for our tracking census in Liptov. Obtaining reliable estimates of animal populations is vital for their effective conservation and management. The typically low population densities, large home ranges and cryptic behaviour of large carnivores such as wolves and lynx make them particularly difficult to observe directly and estimates of their numbers vary widely. Whereas official game statistics list more than 1,500 grey wolves in spring in Slovakia, some environmentalists claim there to be less than 150 individuals, a huge difference. Who is right? Maybe neither of them. The main aim of our project is therefore to develop a reliable, standardised methodology for assessing numbers of carnivores.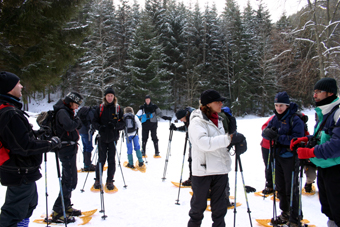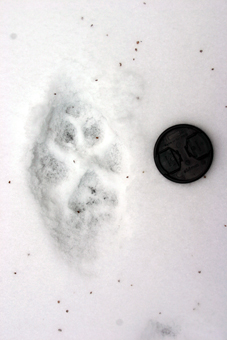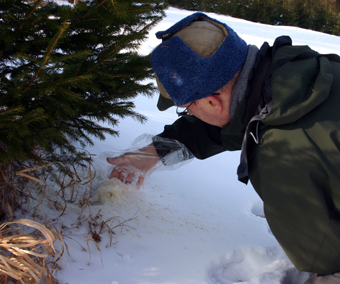 During a three-week period, with the help of foresters, landowners and national park staff as well as volunteers, we covered more than 50 routes of between 10 and 15 km each on foot, snow shoes and skis. All tracks of wolves and lynx were recorded and we also collected samples of urine, faeces and hair for genetic analysis, which will allow us to distinguish between different individuals. The task for us over the next few months is to analyse the findings. Thanks to Biosphere Expeditions for recruiting the volunteers and to Land Rover and T.O.P. Auto Slovakia for lending vehicles. The biggest thank you, of course, goes to all the participants (from Slovakia, Hungary, the UK, Ireland, France, Germany, Austria, Belgium, Spain, Australia, Canada and the USA) who were willing to sacrifice their time to help us.
January
Although there were reports of bears emerging during a strangely warm and wet January, they seemed to return to their dens as temperatures dropped close to -20°C in the last week of the month and fresh snowfalls arrived. Prior to that we ran the latest of our weekend tracking events, this time focussed on wolves and lynx, and also spent a few days at the University of Veterinary Medicine in Košice analysing scats (faeces) we found in 2009. We have now amassed results from more than 850 bear scats collected since 2001, representing a unique database within Slovakia.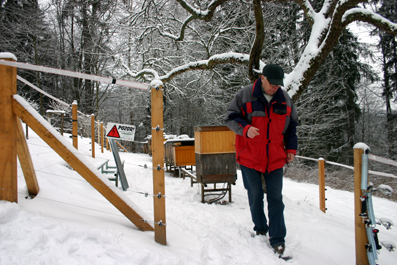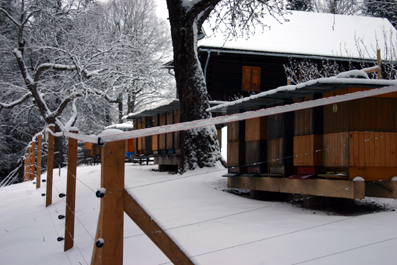 As the new decade begins we are delighted to announce the launch of a new initiative to reduce conflicts between large predators and people and so prevent bears and wolves being killed unnecessarily. The
White Dog Fund
will provide financial and practical assistance to people in rural areas who shoulder the real cost of co-existing with carnivores. I took the Wolves and Humans Foundation's Richard Morley to see one of the Fund's first beneficiaries on 6th January. Jaroslav Slezák has been keeping bees at his cottage in the Slovenské Rudohorie Mountains for 30 years. Bears had been damaging his hives 2-3 times per year. Now the White Dog Fund has covered 50% of the cost of a bear-proof electric fence. This year we are hoping to raise funds for 10 more fences, so please
make your donation today!